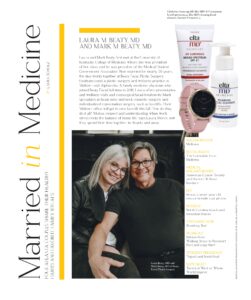 Our very own Drs. Laura and Mark Beaty were recently featured in Modern Luxury Medicine + Doctors (MLMD) magazine, a premiere guide to medicine and wellness in Atlanta. 
The MLMD feature notes that the couple first met at the University of Kentucky School of Medicine. Having been married for nearly 30 years, they now work together at Beaty Facial Plastic Surgery. Dr. Laura Beaty offers a range of health and wellness treatments, including weight loss consultations, IV infusion therapy, and non-surgical skin, face, and body enhancement. Dr. Mark Beaty, a double board-certified facial plastic surgeon, provides a comprehensive selection of surgical and non-surgical options to help patients look and feel their best. He is widely recognized for his innovative approach to procedures such as facelift and rhinoplasty, helping patients achieve truly exceptional results.
When asked how they balance the stresses of running a highly successful aesthetic care practice, Dr. Laura Beaty highlights "mutual respect and understanding." 
To learn more about Beaty Facial Plastic Surgery, or to schedule a consultation with one of our providers, please contact our office today.