Wrinkles, drooping brows, and frown lines can significantly affect the way you feel about your appearance. There's no way to prevent them altogether. Knowing the effects of facial movements on your skin, however, you are empowered to take preventive and corrective action as needed. We've got solutions! For many years, BOTOX® Cosmetic was the most commonly known injectable wrinkle-reducer. Not anymore. Now, we've got a host of competitors. Daxxify® is the latest, and we're excited to offer this innovative product. 

At Beaty Facial Plastic Surgery in Alpharetta and Atlanta, you can receive the assistance you need to find the perfect treatments to achieve your aesthetic goals. You may reach us directly by calling an office near you or filling out our online contact form.
What is Daxxify®?
Approved by the FDA in 2022, Daxxify® is classified as an acetylcholine release inhibitor and neuromuscular blocking agent. It's similar to other neuromodulators, including BOTOX® Cosmetic, in that it's formulated with purified Clostridium botulinum type A. Specifically, Daxxify® is a 150 kDa botulinum toxin without accessory proteins.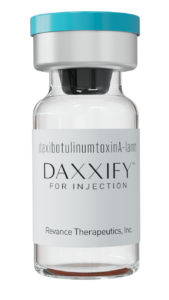 Neuromodulators are called neuromuscular blocking agents because this family of FDA-approved drugs cause a marked decrease in muscle movement when injected into a target site. Neuromodulators have been used both cosmetically and therapeutically for many years. Injection into the muscle inhibits the release of acetylcholine, a chemical that's imperative for muscle movement. Cosmetically, this action on the muscle allows overlying skin to smooth, reducing the appearance of dynamic lines and wrinkles.
How is Daxxify® Different from BOTOX®?
Most existing neuromodulators, including BOTOX® Cosmetic, are stabilized with human serum albumin, which is found in human blood—specifically a protein in plasma. With Daxxify®, stabilization of the toxin is accomplished with peptides specifically constructed for this purpose and uses no animal products. This makes Daxxify® the only vegan neuromodulator available today. The peptide coating also improves uptake of the toxin into motor neurons, contributing to the enhanced duration of effect. According to clinical findings, that's not the only reason patients may be making the switch from their usual wrinkle reducer to Daxxify®!

Before and After Photos Provided by Daxxify™
Why Choose Daxxify® Over Other Neuromodulators?
Neuromodulators like BOTOX® Cosmetic, Jeuveau®, and others have been proven to achieve significant wrinkle reduction. The results of each of these products tend to last about 90 days. Daxxify®, seemingly due to its peptide coating, can produce results that last up to twice as long as that seen with other neuromodulators. 
Clinical trial submissions to the FDA showed that 80 percent of study participants treated with Daxxify® had minimally visible wrinkles or no wrinkles at the four-month mark after receiving injections. At six months, half of all treated patients continued to have little evidence of dynamic wrinkles. 
At this time, Daxxify® is approved only for the correction of frown lines. As doctors become more familiar with the product, how it spreads, and how it affects the skin, we anticipate widespread off-label usage. 
What are the Risks Associated with Daxxify®?
According to Revance® and documented clinical trials, few serious treatment-related side effects have occurred with Daxxify®. The most common side effects are similar to other neuromodulators. They include minor redness and swelling at injection sites, headache, and drooping eyelids, which only two percent of study participants developed.
Schedule Your Appointment at Beaty Facial Plastic Surgery!
You don't have to be ready for plastic surgery to benefit from a visit with us. Schedule a visit at our Alpharetta or Atlanta office today to explore our many non-surgical cosmetic treatments, including Daxxify®!