Meet the Team of Beaty Facial Plastic Surgery in Metro Atlanta.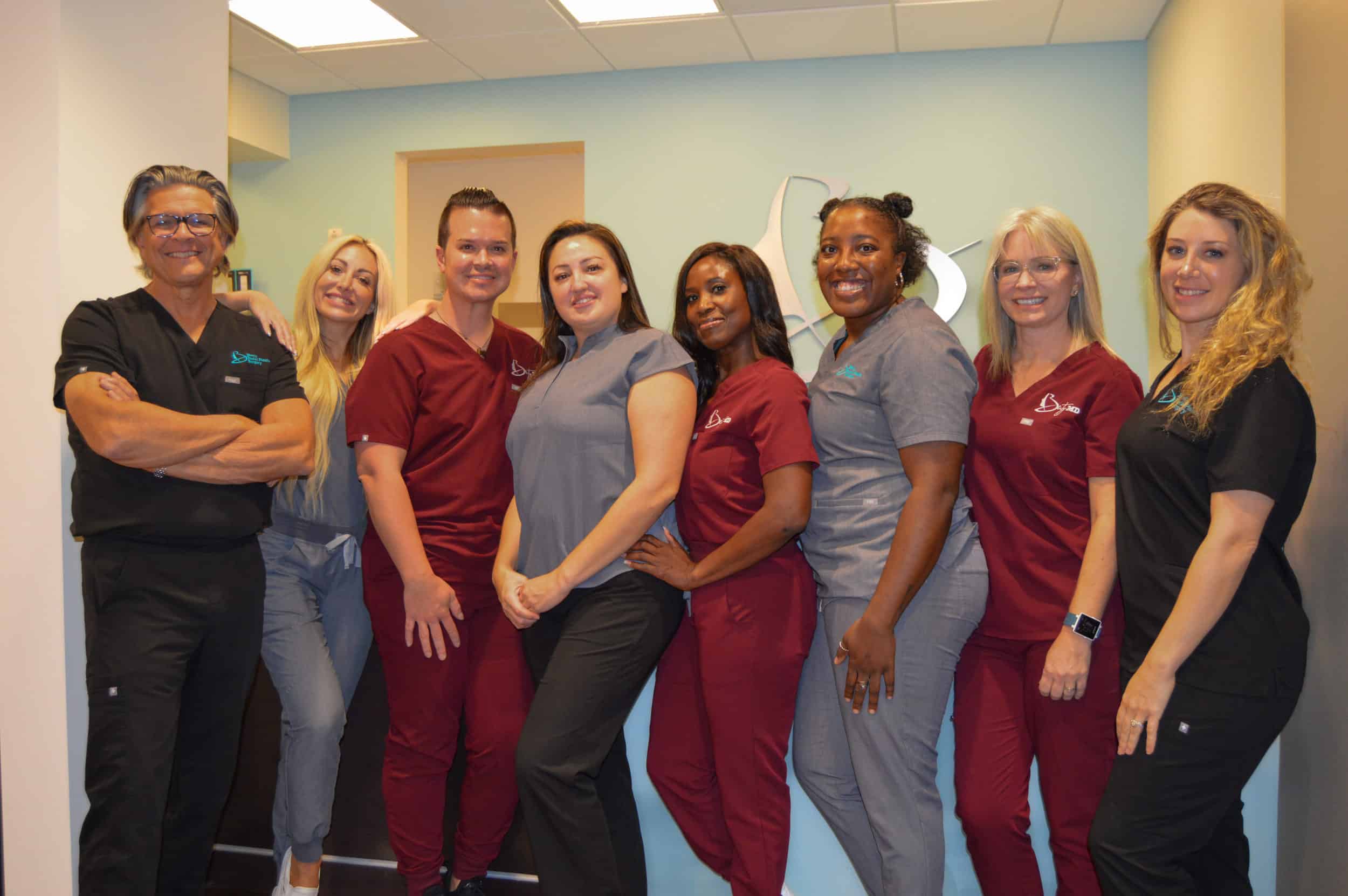 Meet Our Office Manager Allyssa Nivilinszky!
Medical Assistant and Clinical Care Coordinator
Shawndelle Carter graduated with honors from Georgia Medical Institute in 2004 as a Certified Medical Assistant. Prior to joining Beaty Facial Plastic Surgery, she provided personalized patient care as Dr. Laura Beaty's primary medical assistant for almost a decade.
Shawndelle attended CoolSculpting University in Virginia and received her certification as an Advanced-Certified CoolSculptor. She has extensive training as an advanced Ultherapist. In addition, she is an expert phlebotomist and IV technician. Her training equips her with the necessary skills, knowledge and techniques to ensure superior results for our patients.
When asked why she chose Beaty Facial Plastic Surgery, she responded, "Dr. Mark Beaty is one of the best and most talented Plastic Surgeons in Georgia. It amazes me to see how dedicated he is with his patients and be able to work with and learn from him."
In her free time Shawndelle loves spending time with her family, especially her children Addison and Shaelynn. She is an avid ALTA and USTA tennis player and volunteers at the "Ray of Hope Christian Church – Hope Through Health Clinic," providing free medical services to underserved persons throughout Georgia.
Shawndelle was born in Guyana, South America.
Allyssa Nivilinszky joined Dr. Beaty and his team in May of 2016. Originally from Chicago, she is a graduate of the University of North Georgia and holds her bachelor's degree in Marketing. Allyssa has over 16 years of experience in the aesthetic industry, with 12 of those years in medical facial aesthetics.
Using her creativity and leadership skills, Allyssa assists in the coordination of all patient related functions, business operations, and sales and marketing efforts. She brings a genuine enthusiasm to all aspects of her work and is quite passionate about her work in the medical aesthetics industry. Allyssa thoroughly enjoys leading her team to help patients to achieve their cosmetic goals.
When she is not at the office, you can find Allyssa modeling at various major motorsports events around the country. She is also an avid painter, yogi, surfer and motorcyclist, and enjoys spending time with her three dogs and cat.
Certified Nurse Practicioner
Gary Washington, FNP-C is our aesthetic nurse practitioner with a total of 11 years as a registered nurse and 5 years as a nurse practitioner. He has extensive experience in injectables (botox and fillers), laser resurfacing of the face, laser hair removal, tattoo removal, and repairing skin laxity. Born and raised in Georgia, he started his career as an ICU nurse in 2009 at Eastside Medical Center after graduating from Georgia Perimeter College with his Associates Degree in Nursing.
He moved to Baltimore in 2015 after graduating with his Family Nurse Practitioner Degree from Georgia State University. While in Baltimore, he worked for John's Hopkins University Hospital.
As a Family Nurse Practitioner, he has worked in Primary Care, Hospice, and Regenerative medicine in the film industry in Atlanta. It was in 2018 that he started in the aesthetic industry, which brought out his meticulous and artistic side.
Along with his partner of 8 years, and their 8 year-old twin girls, they spend their time in both the city and suburbs and enjoy life in both. In his free time, he enjoys traveling, dining out, and being with friends and family.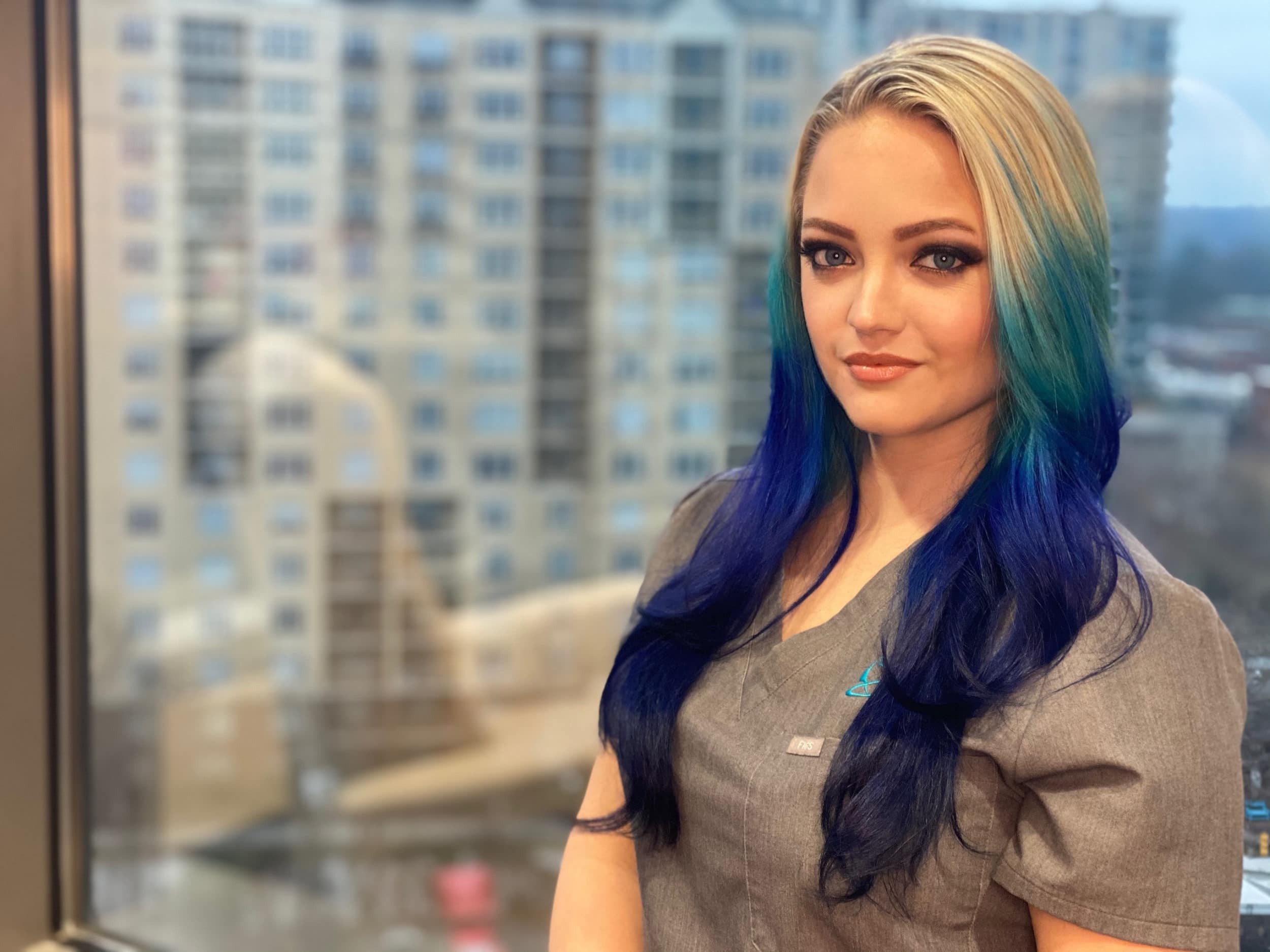 Haley shines in her role here as Social Media Coordinator. She was born in Minnesota (Go Vikings!) and raised here in Georgia. She is often spotted and recognized for her cool hair, awesome dance moves, and love for everything Disney and Broadway-esk. (She could listen to and watch Hamilton multiple times without shame or pause.) Makeup consumes half of her heart as one of her favorite ways to pass time.
If Haley is not trying out new makeup looks or watching musicals, she likes to spend time with family, friends and her 3 furbabies (2 pups and 1 cat). Her favorite thing so far about being a part of the Beaty Team is getting to know and meet so many great people! She plans to make a huge splash in the marketing world in her  role for and on behalf of the Beaty Brand.
Business Development Manager
Shanelle was born in Thomasville Ga but lived in many places due to being an army brat. She is the oldest and definite but unspoken favorite of 3 siblings. She likes to hang with family, hike, play basketball or do anything active in her free time. Nike and Captain America are her love languages but she can often be persuaded with chocolate. Her favorite random facts about herself are that she can play the drums, she has very small ears, and she loves "dad jokes". She is absolutely ecstatic to be welcomed into the Beaty Team, and looks forward to meeting all of our patients!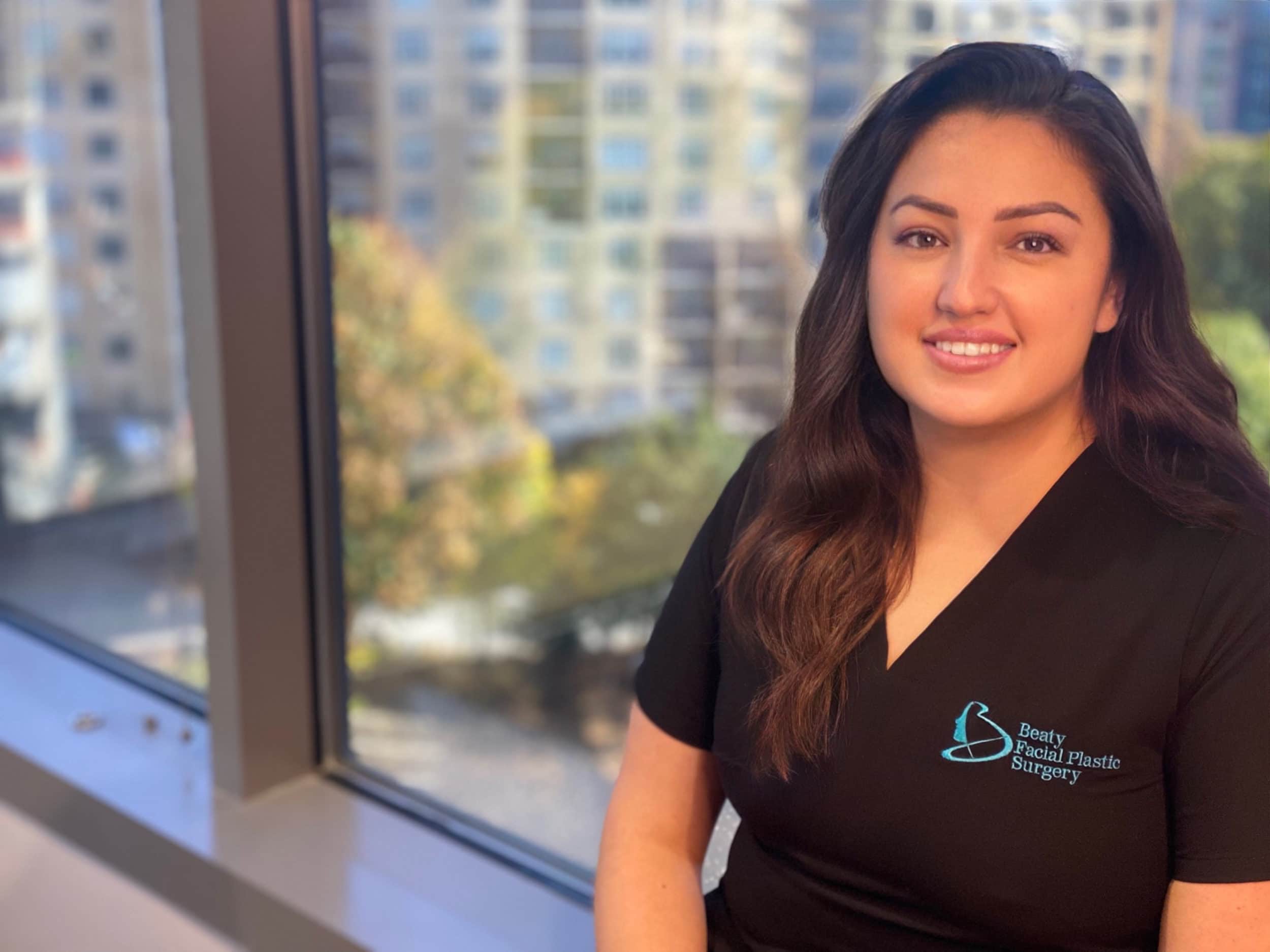 Patient Care Coordinator & Surgery Scheduler
Se Habla Español
Viane joined Beaty Facial Plastic Surgery in 2021. She has over 8 years of experience in dermatology and skin care. Due to her passion for patient care and aesthetics, she wanted to work in the field of facial plastic surgery. We are excited to have her on our team as primary patient care coordinator and scheduler for Dr. Celeste Nagy.
Viane and Dr. Nagy both speak Spanish and look forward to caring for patients from diverse backgrounds in such an international city as Atlanta. With her affable personality, she is involved in all aspects of patient care from initial consultation, scheduling surgery or treatments, and instructions on aftercare.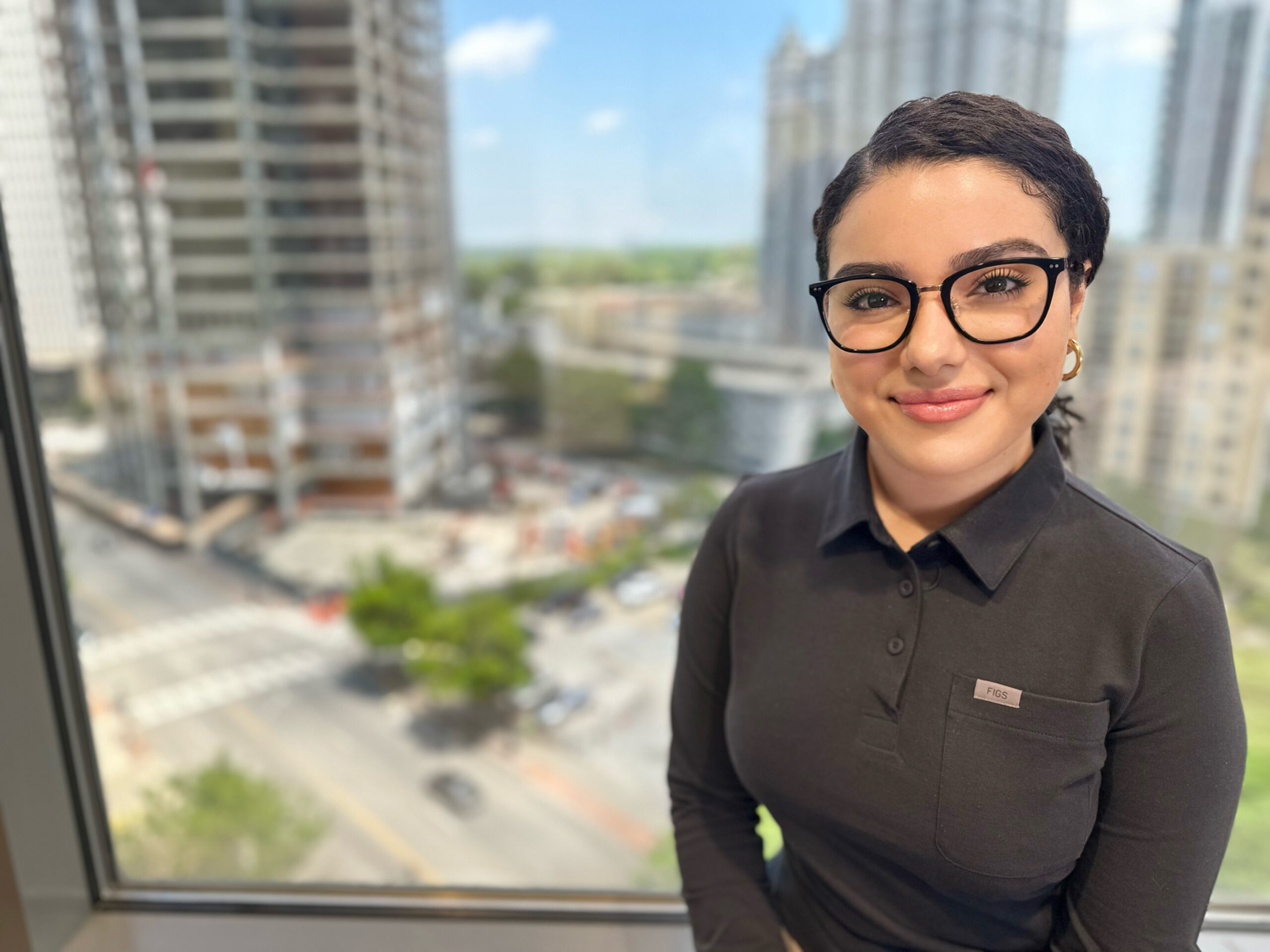 Patient Care Coordinator & Surgery Scheduler
Se Habla Español
Hola, I am also a BIG Star Wars fan, coffee lover and I can have a charcuterie board for dinner every night !
Christyn Peña is originally from Queens, NY. She comes from a beautiful blended latin family. Her father is from the Dominican Republic and mother is from Nicaragua. Christyn is fluent in Spanish and English.
Christyn's background is based in hospitality with obtaining an Associates degree in Hospitality Management from Atlanta Technical College. In addition to providing excellent care for our patients, she also has a passion for skin care and the science behind it.  When not working Christyn loves to photograph, travel to different countries and hike with friends and family.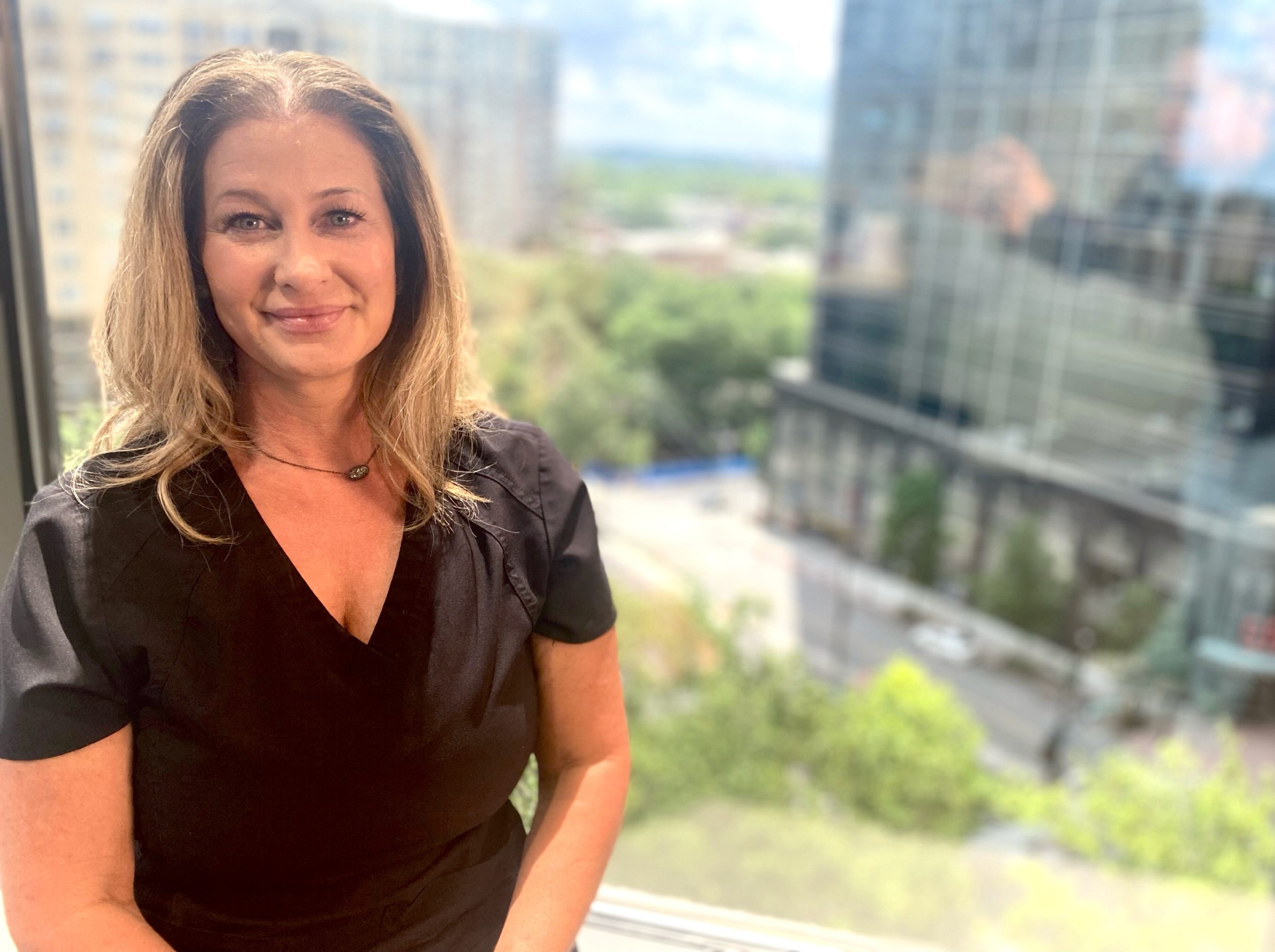 Patient Care Coordinator & Front Office Coordinator
Christie joined us here at Beaty Facial Plastic Surgery in 2022. She was born and raised in Georgia, and has over 22 years of experience in the medical field- 6 years as an Orthopedic surgery scheduler, and 14 years in Cosmetic Dermatology. She has a strong passion for patient care and aesthetics, and this led her to the field of facial plastic surgery! We feel very lucky to have her on the team!
In Christie's down time, she enjoys spending time with her family and friends. She also enjoys traveling,  hiking, swimming & shopping.  Christie's favorite hobbies include creating beautiful events designs  and  drinking coffee.
What People Say About Us!
"DR. BEATY AND HIS STAFF WERE EXCELLENT! I HAD A COOLSCULPT TREATMENT 8 WEEKS AGO AND I COULD NOT BE MORE PLEASED WITH THE RESULTS. THE STAFF WAS VERY KNOWLEDGEABLE ABOUT PROCEDURES. I WOULD HIGHLY RECOMMEND DR. BEATY. IF YOU ARE CONSIDERING COOLSCULPT, E-MAIL DR. BEATY… YOU WILL NOT TO BE DISAPPOINTED."
Click here to read more reviews.