Hand rejuvenation is taken to a whole new level at Beaty Facial Plastic Surgery. Many of our patients find that following facial rejuvenation their hands are the biggest giveaway to their age. As we get older the hands lose soft tissue volume making the veins and tendons appear more prominent. This gives a ropy appearance to the back of the hand and combined with skin texture changes and pigment irregularities gives the characteristic appearance of the aging hand.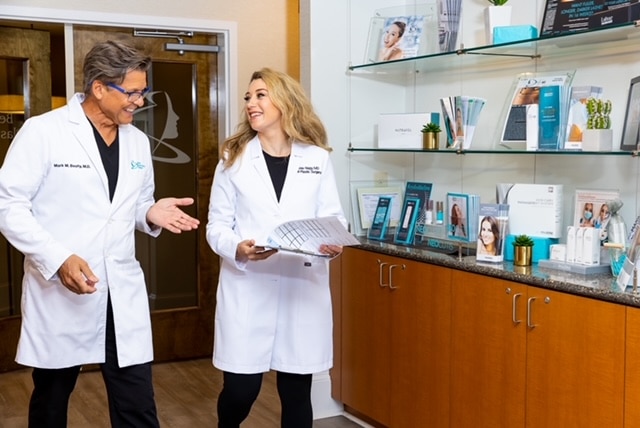 What is the goal of Hand Rejuvenation Treatments?
It is common knowledge that the skin on the face and neck needs ongoing care and sun protection in order to age well. The hands are often left out of a daily skincare regimen. This part of the body, though, is frequently exposed to the sun and is also affected by everyday movements. The appearance of the hands is one of the most telling signs of age. Hand rejuvenation is performed to correct the tissue changes that make this highly-visible area look older.
Read What Our Patients Are Saying!
"Dr. Beaty and his staff were excellent! I had a cool sculpt treatment 8 weeks ago and I could not be more pleased with the results. The staff was very knowledgeable about procedures. I would highly recommend Dr. Beaty. If you are considering cool sculpt, e-mail Dr. Beaty.. You will not be disappointed."
Click here to read more reviews.
Who is a good candidate for Hand Rejuvenation?
Adults of all ages can be good candidates for hand rejuvenation. This treatment does not have to be done to correct problems like spots and wrinkles or loss of volume, it can be done preventatively, as well. Because we offer various types of hand rejuvenation treatment, not just dermal filler injections to plump the backs of the hands, patients have options to address their unique needs.
What are the benefits of Hand Rejuvenation with Dr. Beaty?
One of the most significant benefits of having hand rejuvenation by an experienced provider is that we customize every treatment protocol to the individual. Hand rejuvenation treatment can achieve several improvements, including:
Smoother skin
Improved skin tone
Collagen regeneration for tighter, firmer skin
Reduction of sunspots and photodamage
Stimulation of ongoing collagen production to slow the speed of cosmetic aging
Nonsurgical hand rejuvenation treatments are comfortable and convenient
Results can be immediate
Laser Resurfacing of the Hands
Our cosmetic surgery practice uses a unique CO2 laser device which is specifically designed to treat the hands and forearms. With fractionated CO2 beams the hands are treated gently, with no down time. As a result, the hands will gradually develop better skin texture, fewer pigment irregularities and tighter skin.
Volume Augmentation of the Hands
We perform individualized and precise volume augmentation of the hands with personally selected fillers for your best correction. These are often a Juvederm, Restylane, or Radiesse filler product. Improving the contours of the hands minimizes the appearance of prominent veins and tendons, leading to a more youthful look.
What our patients have to say
"Dr. Beaty and his team are incredible! Dr. Beaty's specialized skill and expertise set him apart from other facial surgeons. My surgery results far exceeded my expectations! I absolutely love my results! I am so grateful for Dr. Beaty's immense knowledge and talent! Dr. Beaty and Beaty Facial Plastic Surgery staff go above and beyond the call of duty. They genuinely care for every patient and listen to every concern. Everyone is always so sweet and so kind! Compassionate care and high-quality medical treatments are their top priorities! The office staff create a friendly and comfortable environment and provide exceptional service! I highly recommend Dr. Beaty and his team to anyone who wants to enhance their beauty! Beaty Facial Plastic Surgery is truly the best of the best!"
Microneedling and PRP for Aging Hands
Our team uses microneedling techniques with the use of Platelet Rich Plasma to improve skin texture. These therapies are an excellent addition to the treatment plan for patients who have texture changes associated with thinning skin in the hands.  In addition, we use Erbium laser to reduce aging spots on the hands.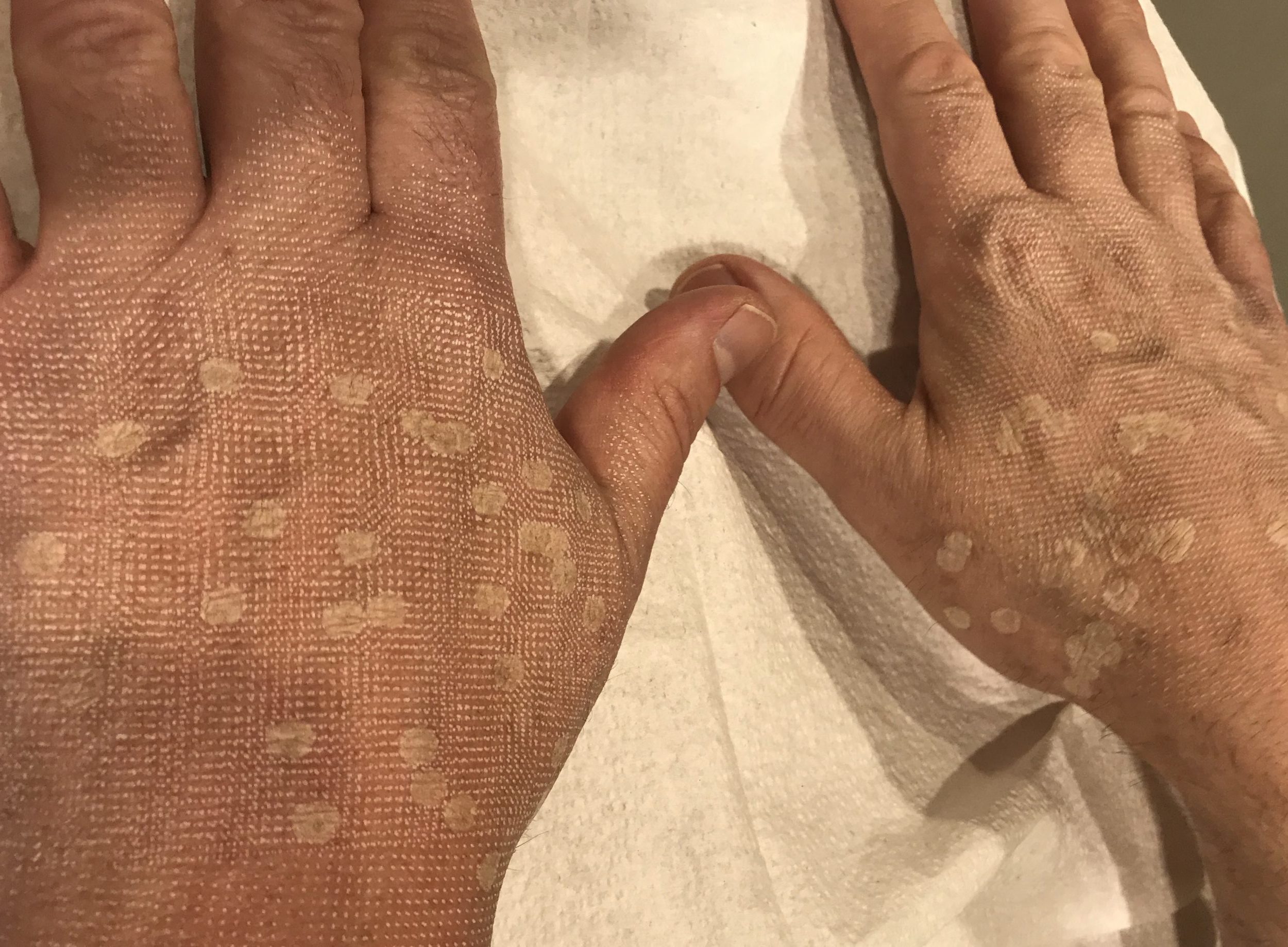 The patient above is pictured immediately post CO2 and Spot Erbium Hand Treatment
What is the cost of these Hand Rejuvenation Treatments?
Every person needs personalized care to adequately address aging hands. Treatment may include periodic dermal filler injections or a series of collagen-inducing procedures. The type of procedure one chooses, as well as the desired level of improvement, will influence the cost of care. If you are interested in knowing more about the cost of hand rejuvenation treatment, we invite you to schedule a consultation with us where we can observe your skin and discuss what you would like to achieve. From there, we can suggest one or more techniques to help you restore youthfulness to your hands.
Why choose Dr. Nagy and Dr. Beaty for your Hand Rejuvenation Treatments?
Our team has been providing personalized medical care for more than twenty years. Their combined experience in plastic surgery, laser technology, and nonsurgical treatments allows them to meet patients unique needs with a high level of understanding and artistry. When you visit our Alpharetta or Atlanta office, you can expect the utmost care in a friendly, professional environment.
Schedule a Consultation with Us Today!
Our team will frequently use a combination therapy approach to get the best results in hand rejuvenation. Call us today to learn what the best plan for you may be.