Facelift (ProLift™)
What is a Facelift (ProLift™)?
The Progressive Limited Incision Facelift Technique, also known as ProLift™, was developed over the last 10 years by Atlanta and Alpharetta's leading facial plastic surgeon, Dr. Mark Beaty. ProLift™ is a facelift and neck rejuvenation procedure that involves a progressive analysis of the patient's problem areas all the way through the time of the surgery. The result of this approach is a perfect matching of surgical technique to the individual needs of each patient for beautiful results.
HOW DOES THE PROLIFT TECHNIQUE GET ME THE BEST FACELIFT RESULTS?*
Dr. Beaty developed the ProLIFT to ensure each procedure was matched to the specific anatomy and tissue consistency of the patient. This means that all aspects of your procedure, from incision length and placement to how the facial tissues are repositioned and anchored, are designed specifically for you. Natural appearing rejuvenation with maximal improvement is the result!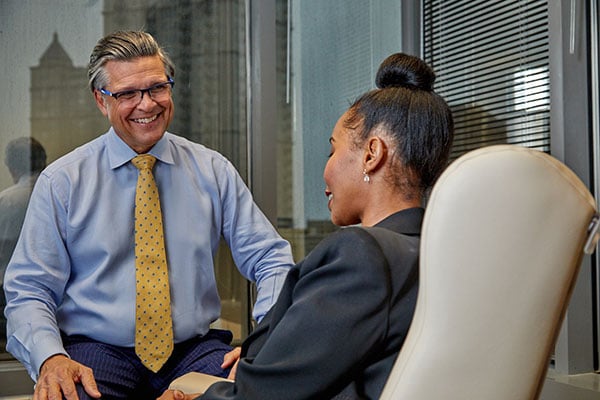 ProLift™ VS TRADITIONAL FACELIFTS
The ProLift™ facelift procedure allows Dr. Beaty to identify specific problem areas for each patient, and develop a tailored solution that meets each patient's exact needs. The entire procedure is customized to meet the individual goals of each patient through an analysis of their supportive tissue that is not visible from the outside.
As a result of the progressive analysis of the patient's specific needs, ProLift™ provides phenomenal, natural-looking results that may be difficult to obtain from a typical facelift and neck lift procedure. In addition, there will be a limited set of incisions, offering minimal downtime and a quicker recovery.
Why did Dr. Beaty create the ProLIFT technique?
During training and in his early years of practice Dr. Beaty discovered that it was very difficult to know with certainty how a patient's facial tissues would need to be repositioned prior to the time of surgery. He was fortunate to have mastered a full compendium of facelift techniques under several different mentors. The ProLIFT is the result of Dr. Beaty's ability to apply intraoperative analysis and technical excellence in any required surgical technique to achieve great results with minimal downtime.
How does the ProLIFT minimize the facelift recovery?
Because Dr. Beaty evaluates each tissue plane during surgery and determines at that time what is needed to release and reposition tissues, no extra dissection is done. This means that only tissue which needs to be repositioned or modified must go through the healing process, minimizing swelling, bruising and total healing time.
Who Can Benefit From a FACELIFT?
Since the ProLift™ is customized to the needs of each individual, it can be beneficial to a wide variety of patients who are concerned with their degree of facial aging. Whether you're looking to correct early signs of aging, or have significant drooping or skin laxity concern, the ProLift™ procedure is the ultimate solution for a new and rejuvenated you.
*Individual results may vary!
Before
After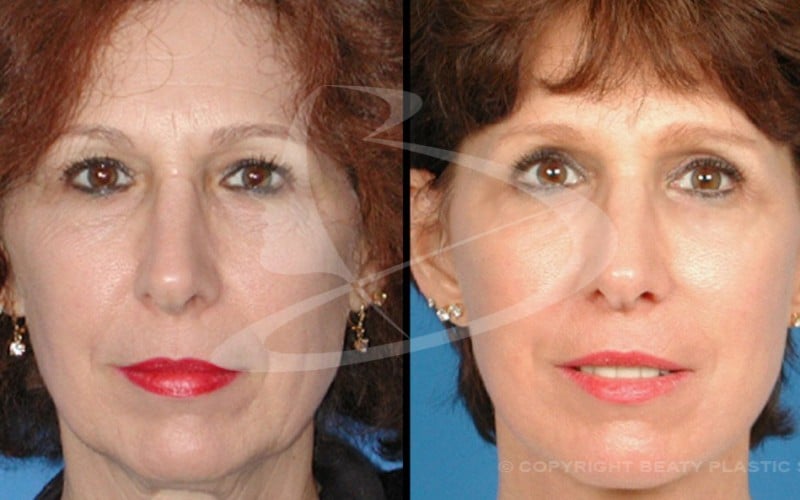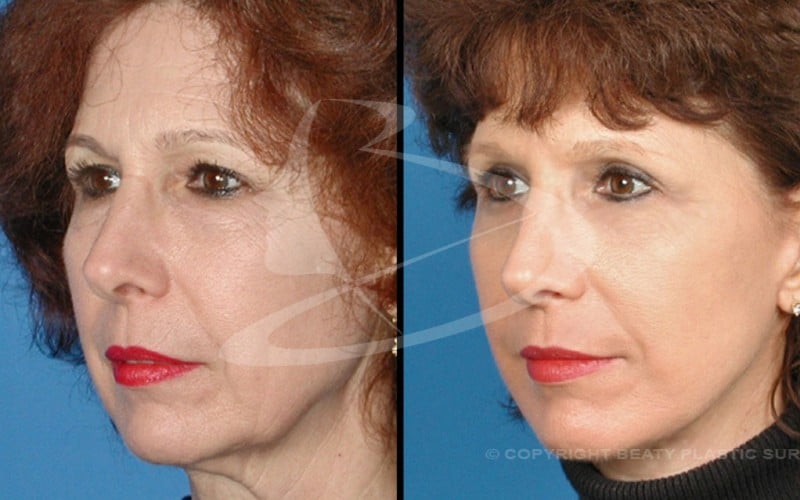 facelift incisions vs ProLIFT incisions
The initial incisions for the ProLIFT technique are minimized to allow access to the deeper supportive tissues of the face, which are the key areas repositioned to restore facial contour. Incisions can then be lengthened to only the extent necessary to re-drape the skin properly which means no extra incision length is created.
IS THE PROLIFT™ A MINI FACELIFT?
The ProLIFT is a facelift that Dr. Beaty designs specifically for each patient. In some cases that may mean that incisions are shorter or dissection is more limited. Most so-called mini lifts are limited operations which yield limited results. The ProLIFT is NOT a mini lift in this sense. Each procedure is custom designed from consultation through surgery to give the best possible result for each patient.
FACELIFT & NECK LIFT PROCEDURE
The ProLift™ procedure will begin with a consultation with Dr. Beaty, creator of the surgical treatment. You can expect a comprehensive assessment of your facial skin, supportive tissue, and volume needs. Dr. Beaty will explain the recovery expectations as well as how you will be impacted by each step of the treatment to achieve your desired results. During the procedure, each step will be carefully evaluated to deliver maximum efficacy.
FACELIFT RECOVERY
Since each procedure is tailored to the individual, this progressive approach to facial and neck rejuvenation ensures minimal incisions and no unnecessary maneuvers. Therefore, patients will experience less swelling, less bruising, and an overall easier recovery.
Find Out More About a Custom FaceLIFT and Neck lift in Atlanta, Georgia
For a facial and neck rejuvenation treatment that will maximize your results and take years off your face, choose ProLift™. This revolutionary anti-aging procedure is only available at Beaty Facial Plastic Surgery.
Learn More about Dr. Beaty's ProLift™ Technique:
*individual results may vary
Dr. Beaty and team specialize in non-surgical procedures, facial plastic surgery options and more.
If you would like to learn more about our services, please contact us to speak with one of our experts.