EltaMD® SkinCare

The EltaMD® skincare line is designed to provide safe effective skin care for all skin types. Even the most sensitive skin can benefit from the deep, gentle cleansing and intense moisturization these products offer. You can now buy EltaMD skincare products at Beaty Facial Plastic Surgery in Alpharetta, Georgia.
Available EltaMD® skincare products include:
---
EltaMD Skincare Facial Foaming Cleanser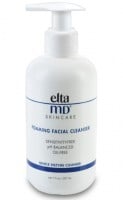 This gentle, self-foaming action cleanses without drying or irritating sensitive skin.
Safe for all skin types
Oil-free and pH-balanced
Gentle enough for daily use, morning and night
Now patients with even the most sensitive skin can experience deep-pore cleansing without drying or irritating their skin. EltaMD Foaming Facial Cleanser is an innovative formula with a bromelain and apple amino acid blend. Its self-foaming action gently yet thoroughly removes make-up, oil and other impurities.
---
EltaMD Skincare UV Clear SPF 46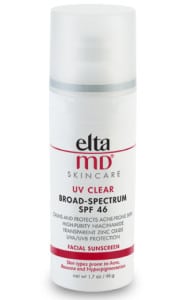 This facial sunscreen from EltaMD provides outstanding sun protection for people with skin prone to acne, rosacea, and hyperpigmentation. The clear, lightweight formula protects skin from harmful UVA and UVB rays, and can be worn with or without makeup.
Contains ingredients that promote skin health, like niacinamide (vitamin B3), lactic acid, and hyaluronic acid
Lightweight, clear formula leaves no color or residue on skin
Soothes sensitive skin types
Contains antioxidants to absorb free radicals
Provides UVA/UVB sun protection and prevents photodamage
Contains 9.0% transparent zinc oxide
Fragrance-free, oil-free, paraben-free, non comedogenic
---
EltaMD Skincare UV Shield SPF 45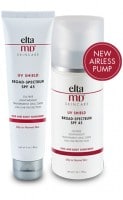 Broad-Spectrum UVA/UVB Sun Protection
SPF 45 with 9% Zinc Oxide
Great for all skin types, especially oily or acne-prone skin
Specifically formulated to provide oil-free protection for the face, either alone or under makeup
Light sheer formula that spreads quickly and leaves no residue on skin's surface
Noncomedogenic, paraben-free, fragrance-free and sensitivity-free
---
EltaMD Skincare UV Sport SPF 50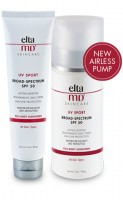 UVA/UVB Sun Protection
SPF 50 with 9% Zinc Oxide
Won't rinse off in water or drip into eyes and sting when you sweat
May be applied to wet or dry skin
Great for swimmers, runners, golfers, skiers and all outdoor activities
Safe for use with children
Very Water Resistant
Non comedogenic, paraben-free, sensitivity-free, fragrance-free
EltaMD was founded on the belief that the responsible and innovative application of medical expertise and science will change the way physician-dispensed skin care products treat people. The EltaMD line includes a complete spectrum of sun and skin care products, one for every skin type and unique need.
Dr. Beaty and team specialize in non-surgical procedures, facial plastic surgery options and more.
If you would like to learn more about our services, please contact us to speak with one of our experts.