Non-Surgical Cosmetic Procedures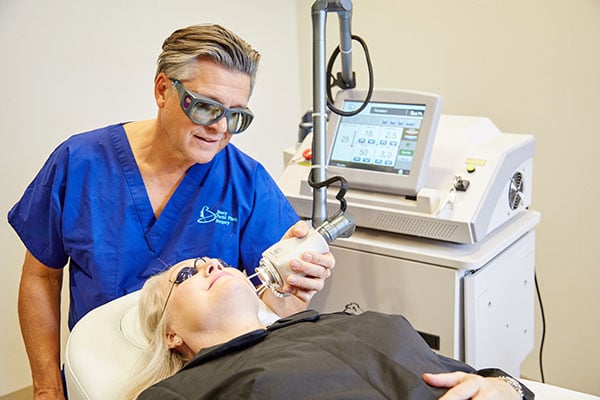 Injectables
Injectables are comprised of both what are called neuromodulators (Botox® and other brands) and dermal fillers (Juvéderm®, Restylane®, and others). These products are injected either beneath an existing wrinkle or crease and they "fill" in the depression, or they are injected to stop a muscle from contracting and forming a wrinkle on the surface above. Kybella® is also an injectable, but is intended solely for reducing fat in what is colloquially known as the double chin.Injecting substances under wrinkles to push them back up has been tried for a long time, most notably the reinjection of a person's own fat. But results were unreliable. Everything changed in 2002. That was the year the FDA approved Botox® for the treatment of facial wrinkles on the upper third of the face. Botox® was the first neuromodulator and remains the world's most popular cosmetic procedure year in and year out. The first dermal filler, Restylane®, was approved by the FDA in 2005. Since then, many different injectables have come to the market. Click here to learn more.
Botox®
BOTOX® Cosmetic is an injectable treatment that temporarily paralyzes muscles to prevent lines and wrinkles caused by muscle contraction. BOTOX® can be used in multiple areas of the face, and may also be used to treat medical problems such as excessive sweating, jaw pain, and even migraines. Click here to learn more.
Jeuveau™
Jeuveau™ is a neurotoxin medication that gained FDA approval in the Spring of 2019. This cosmetic drug was developed for the correction of glabellar lines by reducing muscle contractions with a prabotulinumtoxinA. Jeuveau™ contains a full 900 kDa purified botulinum toxin type A for safe, effective results. Click here to learn more.
Juvéderm®
JUVÉDERM® is a smooth, gel dermal facial filler that works to reduce the appearance of wrinkles and lines around your mouth and nose. Juvéderm filler has been widely used for many years. Each Juvéderm filler is based on hyaluronic acid, a substance that the body makes naturally. From this base, varying products are made to reach a specific density. These variations accommodate the differences in tissue across the face. For example, the tissue around the lips and eyes is delicate and in need of a softer, smoother filler than is the tissue on the cheeks or around the nose and mouth. Click here to learn more.
Juvéderm Voluma® XC
Voluma treatment produces immediately visible results that last for up to 2 years! It is a nonsurgical option that provides a subtle lift. The results you gain from Voluma can make you look up to 5 years younger. It is the first and only FDA-approved filler to instantly add volume to the cheek area in people over the age of 21. Click here to learn more.
Juvéderm Volbella® XC
Juvéderm Volbella® XC was developed as a more subtle offering for adding volume to the lips. Juvederm® Ultra XC was the first dermal filler for the lips, but some people believe it adds too much volume. Ultra is intended to visibly plump the lips, adding volume. Volbella is subtler. It adds volume that isn't immediately obvious, and it smoothes the vertical lip lines that come with age. Click here to learn more.
Juvéderm Vollure® XC
Juvéderm Vollure® XC is the newest addition to the Juvéderm® family of dermal fillers. It was developed to be an extension of the original, Juvéderm XC. Vollure® is designed for the correction of moderate to deep creases and wrinkles such as nasolabial folds running from the nose down to the corners of the mouth, parentheses lines framing the mouth, and marionette lines dropping downward from the corners of the mouth. Juvéderm Vollure® XC uses Vycross crosslinking, which is also used in Volbella® and Voluma®. This technology minimizes any swelling when Vollure® is injected. Click here to learn more.
Restylane®
When the various dermal fillers are categorized, they are broken into either "natural" or "synthetic" distinctions. Restylane® is a natural filler because it is made primarily from hyaluronic acid, a naturally occurring substance in the human body whose job is to hydrate, plump, and firm the skin. When Restylane® is injected beneath a crease, such as a nasolabial fold, the hyaluronic acid binds with nearby water molecules, adding volume and plumping the skin. This erases or substantially decreases the wrinkle. Click here to learn more.
Kybella
Kybella® is different than the other injectables. It is made basically from deoxycholic acid, which is found in the human body. Deoxycholic acid is responsible for helping the body break down and absorb dietary fat. Kybella® is injected into the area under the chin where we collect fat, the dreaded double chin. Once injected, the deoxycholic acid doesn't differentiate between dietary fat and stored fat, so it starts to break down the fat that has created the double chin. The fat is then flushed from the body through the lymphatic system. Without the fat, the person's profile tightens dramatically. Click here to learn more.
Sculptra® Aesthetic
Made from poly-L-lactic acid (a biocompatible, biodegradable synthetic material), Sculptra® Aesthetic helps to replace lost collagen, correcting facial volume loss, deep facial wrinkles, and folds. Click here to learn more.
Profound Procedure
The Profound procedure utilizes a radio frequency device to help rejuvenate and revitalize the skin at deeper levels, awakening the body's natural healing process. The Profound device targets the production of three naturally-occurring skin components– collagen, elastin and hyaluronic acid. These three elements create volume and firmness to the skin. Starting in our mid-20's, elastin starts to break down and the skin begins to sag and wrinkle.
Profound stimulates natural reproduction of collagen, elastin and hyaluronic acid to revitalize the skin and build new, healthy tissue. This procedure tightens the skin of the jowls and neck and adds volume to the cheeks for a more youthful look. When combating the appearance of cellulite, the same components are reproduced naturally and create a smoother skin surface without the dimples we see when cellulite is present. Click here to learn more.
Ultherapy®
Ultherapy® is the only FDA-approved procedure that is clinically proven to lift, tighten, and tone skin naturally using your own collagen. The areas we treat include full face, neck, chin, eyebrow, décolletage, abdomen, and knees, all without surgery. Using focused ultrasound energy, Ultherapy® tightens and lifts loose skin and stimulates the new growth of collagen in the deeper layers of the facial tissue.
Pixel8 RF
Pixel8-RF is a new technology for improving skin texture, tone and fine lines and wrinkles. Combining the advantages of microneedling with the collagen-stimulating power of radiofrequency energy, Pixel8-RF at Beaty Facial Plastic Surgery helps our patients restore and maintain the very best surface appearance for their skin. Click here to learn more.
Vaginal Rejuvenation
We've used C02 laser devices for aging face because of their ability to create younger skin by increasing collagen, elastin and tightening. These same devices can be used with different intensity to treat the vagina. A vaginal sheath is placed over the laser and introduced into the vagina. Pulses of energy are applied in a circumferential pattern to treat the full vagina. And, we see return of blood flow, improved color, increased collagen, lowering of the pH as a result of this simple treatment. Click here to learn more.
Hand Rejuvenation
Hand rejuvenation is taken to a whole new level at Beaty Facial Plastic Surgery. Many of our patients find that following facial rejuvenation their hands are the biggest giveaway to their age. As we get older the hands lose soft tissue volume making the veins and tendons appear more prominent. This gives a ropy appearance to the back of the hand and combined with skin texture changes and pigment irregularities gives the characteristic appearance of the aging hand. Click here to learn more.
IV Therapy
IntraVenous (IV) nutrition, is an essential healthcare maintenance and support tool that physicians and medical nutritionists use to help support patients who are unable to sustain the necessary level of life-supporting nutrition.
Customizable IV Infusions is a unique and proprietary blend that provides a similar level of life-sustaining support that has immediate bioavailability and life-enhancing properties. Click here to learn more.
Schedule A Consultation
To learn more about any of our non-surgical cosmetic services or treatments please contact us today at 770-753-0053 to schedule an appointment.