CoolSculpt with Beaty Facial Plastic Surgery
CoolSculpting® is a non-surgical, fat reduction procedure that freezes, crystallizes, and eliminates stubborn fat. Unlike other fat reduction techniques that can damage your body, this naturally kills the fat cells beneath the skin. This FDA-cleared, cooling technology, leaves your healthy skin and muscle tissue unscathed.
Benefits of CoolSculpting®
Anesthesia is not necessary
No needles
No downtime
Spot reduction of fat from trouble areas
25-30% of fat cells are permanently destroyed from treated areas
Our practice raises the bar in the world of CoolSculpting® with our CoolSculpt Plus program. We offer supplemental assistance to maximize your results with three follow-up sessions with Dr. Laura Beaty.  This program is included for anyone receiving four or more areas of CoolSculpting® from our office. Dr. Beaty believes everyone's journey with weight management is unique and she utilizes a variety of tools and strategies to help her patients achieve their goals.
Dr. Mark Beaty in China discussing CoolSculpting technology
Complimentary three sessions with Dr. Laura Beaty for weight maintenance strategies to enhance your results, with four or more CoolSculpting® cycles.
Dr. Mark Beaty is world-renowned for his experience and expertise with CoolSculpting®. He is a member of the Zeltiq / Allergan advisory board for Coolsculpting® and was one of the two physicians selected to present at the Coolsculpting®  relaunch in China.
Beaty facial plastic surgery's highly educated team performs this procedure in his office. Both Drs. Beaty and the clinical staff are graduates of Coolsculpting® University, located in Virginia and California.
Use of an InBody assessment on each patient. This InBody machine provides a complete body analysis. The analysis includes the measurement of weight, skeletal muscle mass, body fat, visceral fat, and hydration status.
The CoolSculpting® Procedure
First, schedule a complimentary consultation with the team at Beaty Facial Plastic Surgery. Our Advanced Certified CoolSculptor will assess the areas of concern through a 360 degree evaluation. At this time, both of you will work to design a treatment plan that fits your needs.
When you arrive for the CoolSculpting® procedure, our Advanced Certified CoolSculptor will apply a gel pad to protect the skin around the treatment area from irritation and discomfort. The CoolSculpting® applicator will then be placed on the gel pad and deliver targeted cooling to the area.
CoolSculpting® Patient Testimonial
I am a new patient who underwent Coolsculpting at the Alpharetta location. From the moment I entered the office, I was warmly welcomed and immediately felt at ease. The complete and genuine care I received, as well as the follow up, nutritional counseling and results, have made me a fan and patient for life. This is a special group of providers and I am very grateful to have found Dr. Laura Beaty and her team.
- Anonymous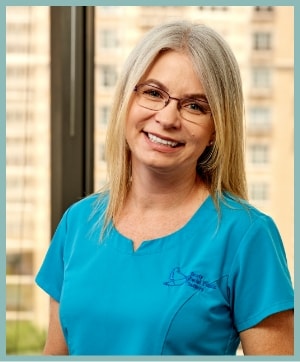 "Dr. Beaty and his staff were excellent! I had a CoolSculpt treatment 8 weeks ago and I could not be more pleased with the results. The staff was very knowledgeable about procedures. I would highly recommend Dr. Beaty. If you are considering CoolSculpt, e-mail Dr. Beaty… you will not to be disappointed." – Anonymous
How does CoolSculpting® work?
Fat cells are more susceptible to cold than muscle or skin. CoolSculpting® targets fat cells and cools them, which in exchange will cause these cells to shrink and die. CoolSculpting® leaves the surrounding tissue unaffected. Over time, your body will naturally metabolize the dead fat cells. The fat layer will condense, leaving you with a slimmer figure.
Are fat freezing treatments painful?
Patients typically experience a pulling sensation in the area of treatment. After several minutes, a feeling of numbness will arise. Following the procedure, temporary discomfort and irritation may occur. Fortunately, this will only last for a few days.
After the treatment, you may begin to see noticeable results in as little as 3-4 weeks. During the 2-3 month period, your body will continue to naturally dispose of the targeted fat cells. You'll see your trouble spots becoming slimmer and sculpted. Although one visit is sufficient to produce excellent results, additional appointments can optimize the results and allow for even further fat reduction.
CoolSculpting® Before & After
Is Non-Surgical Fat Removal a permanent solution?
Fat cells that have been destroyed by a CoolSculpting® treatment will be disposed of. Additionally, maintaining a healthy diet and regular exercise habits is crucial. Results will remain stable as long as patients maintain a consistently healthy weight.
Our providers specialize in non-surgical procedures, facial plastic surgery options and more.
If you would like to learn more about our services, please contact us to speak with one of our experts.