A neck lift is a cosmetic procedure that repositions both the skin and underlying supportive tissues of your neck. It is performed to improve structural definition and to tighten the skin for a more youthful appearance. A neck lift can be performed alone or in conjunction with a facelift.
Schedule a neck lift consultation with Dr. Celeste Nagy or Dr. Mark Beaty at Beaty Facial Plastic Surgery in Metro Atlanta.
Men and women who are in good physical health and would like to improve the loss of definition from their jawline to their neck are excellent candidates for neck lift surgery. Candidates should have realistic expectations about the surgery results.
Neck Lift Surgery in Alpharetta & Atlanta, GA
Our surgeons will start by making an incision behind the natural curve of the ear. He will reposition and adjust underlying fat and muscle before re-draping, lifting, and securing the skin in a higher position.
Neck lifts are usually paired with submental jowl liposuction (SMJ) to target the fatty deposits in the neck area. If SMJ is necessary, Dr. Nagy and Dr. Beaty will make a small incision under the chin in order to access and extract the fat. An SMJ procedure is an excellent solution for a more sculpted, defined neck.
The neck lift procedure usually takes 2-4 hours to perform. The patient is given either general or local anesthesia with sedation. Most neck lifts are an outpatient procedure.
Neck Lift Before and After Photos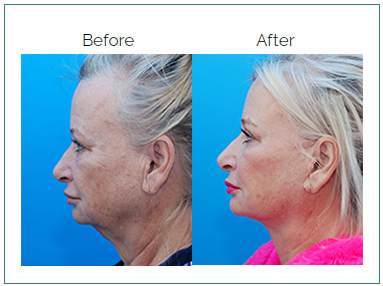 Recovery After Neck Lift Surgery
Most patients will need a supportive facial garment for several days after surgery. The specific care for incisions and neck skin will depend on your individual procedure. Your surgeon will review this with you on the first day postoperatively.
It will take several weeks for a full recovery after neck lift surgery. However, the majority of swelling and bruising will subside within one week. At your one week follow up, Dr. Nagy or Dr. Beaty will remove all sutures. Your face may feel tight while healing, so a soft-food diet is recommended. Work and social activities may resume after two weeks. Although there will be discomfort, most patients do not complain of any severe pain. Your surgeon will write prescriptions for medication to ease the healing process.
Non-Surgical Neck Rejuvenation in Atlanta & Alpharetta
Effective non-surgical lifting is an option to consider and is often used to enhance the results of a face and neck lift. Dr. Beaty and Dr. Nagy offer Ulthera micro-focused ultrasound technology which is the first device to offer significant clinical improvement in facial and brow contour without surgery. In selected patients, this may offer a no down time alternative to surgery.
What our patients are saying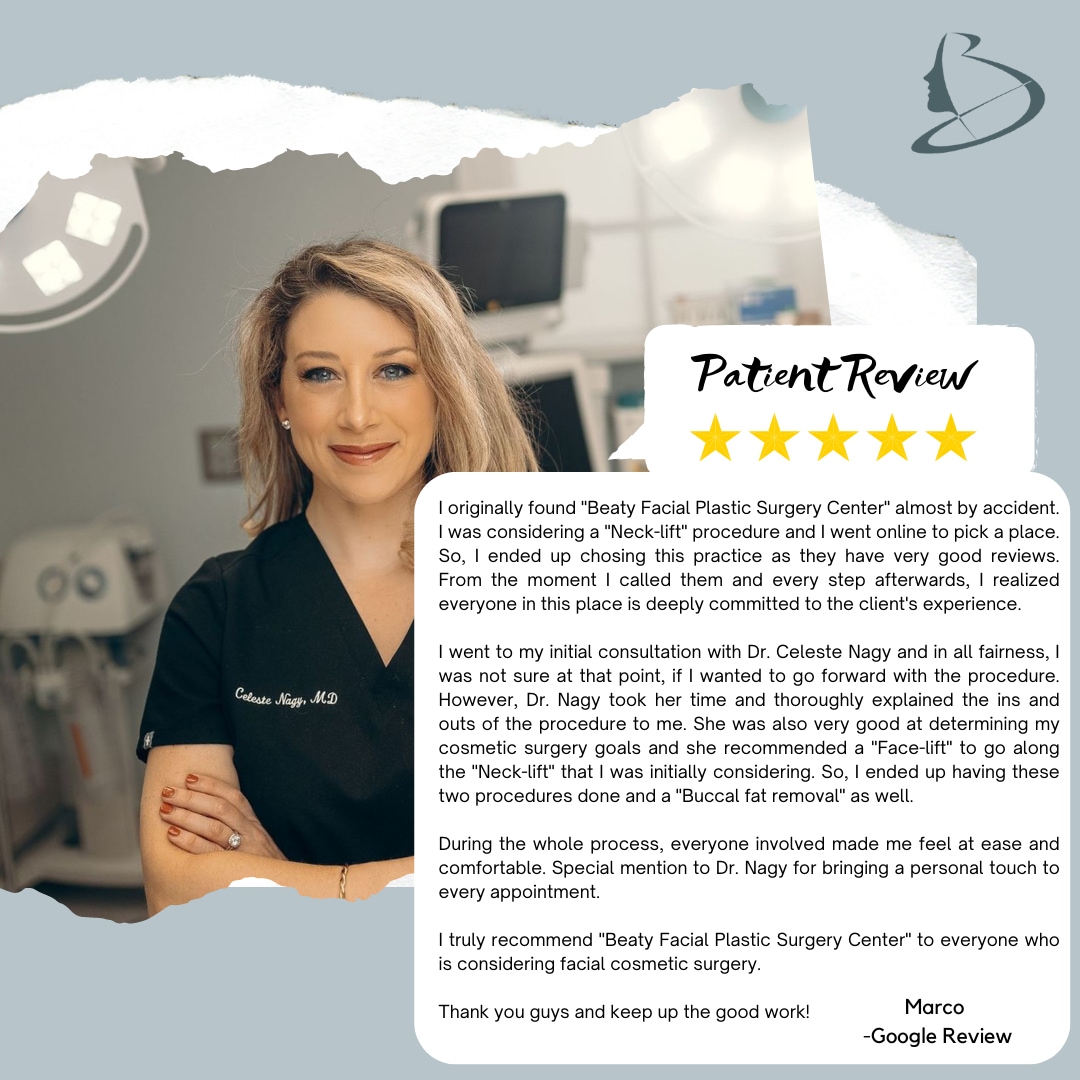 "Dr. Beaty made me feel very comfortable and was kind and answered all of my questions. I never felt rushed or ignored. He is the best!"
To see if you are a good candidate for a neck lift, visit Beaty Facial Plastic Surgery. Call us at (770) 273-0037 to schedule a consultation with Dr. Nagy or Dr. Beaty. Our practice serves Alpharetta, Atlanta, and surrounding areas in Georgia.
Our providers specialize in non-surgical procedures, facial plastic surgery options and more.
If you would like to learn more about our services, please contact us to speak with one of our experts.