What are Facial Implants?
Dr. Beaty and Dr. Nagy, our Atlanta, Georgia facial plastic surgeons offer facial implants for patients to augment, rejuvenate, or reconstruct their facial structure. There are two types of facial implants, cheek implants, and chin implants, that are used to enhance the contours of the face. The procedure can be used to alter and enhance the appearance of the face, or to restore youth to the face after the signs of aging have begun to set in.
While injectable fillers are often used to improve these features, facial implants are used when the desires of the patient are unachievable through the use of fillers alone. If you are in the Atlanta or Alpharetta areas, contact our office today for a facial implant consultation.
What procedures can be combined with Facial Implants?
Many patients who choose facial implant surgery also elect to undergo additional cosmetic procedures. Facial implants are often combined with a facelift, and, more commonly, a rhinoplasty. Facelift surgery allows the face to be rejuvenated and tightened while the implants improve the contour of the face. Undergoing rhinoplasty while getting facial implants allows the face to have a more balanced, even appearance.
Not everyone wants to undergo additional surgery. For these patients, we offer a variety of fillers for a full facial rejuvenation. Here at Atlanta's Beaty Facial Plastic Surgery, we offer Botox, Juvederm (XC, Voluma, Vollure, Volbella), Restylane, Sculptra, and Kybella. These are great options for improving the appearance of the face and smoothing wrinkles and lines.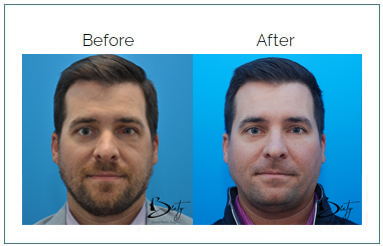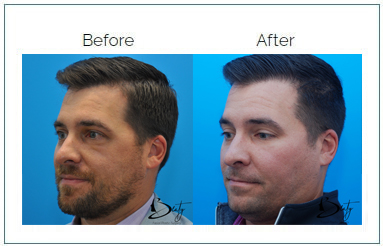 Cheek implants, or cheek augmentation, is a surgical procedure intended to create fuller, more prominent cheekbones. Cheek implants improve facial contours and add definition to the cheek area. With cheek augmentation, patients can treat the loss of elasticity within the cheeks and in turn enjoy a more youthful face.
There are three general shapes of cheek implants that are used in cheek augmentation. These implants are:
Malar implants – These implants provide higher projection and are placed directly on the cheekbones.
Submalar implants – These implants round out a sunken or gaunt appearance to provide more full cheeks.
Combined implants – A combined implant augments both the cheeks and the cheekbones for a full rejuvenation.
At Beaty Facial Plastic Surgery, our surgeons advise patients to choose the implants that will help them achieve their goals. It is important to be open and honest with your doctor during your consultations to ensure satisfactory results.
See what our patients are saying!
"Dr. Beaty is the best! Professional and kind. Always has time to answer questions and makes you feel welcome. Great bedside manner and no wait times."

"Dr. Nagy and her team are so amazing they are very professional and get the job done. I truly enjoyed the service they gave me. I recommend them 100% to anyone that's looking for a great doctor."
Who is a good candidate for Cheek Implants?
Patients looking to improve the "flattened" appearance of the midface are the best candidates for cheek augmentation. Additionally, those who are interested in higher cheekbones or addressing a sunken appearance in the cheek area make for ideal candidates. Cheek augmentation candidates should be physically healthy and have realistic expectations of the procedure.
Cheek Augmentation Surgery Preparation
Prior to the surgery, you will meet with Dr. Nagy or Dr. Beaty to discuss the goals and expectations of cheek implants. About two weeks before the surgery, you will be instructed to discontinue taking anti-inflammatory supplements and medications. You will also be directed to refrain from alcohol one week prior to the procedure. In addition, smokers should stop smoking at least six weeks before undergoing cheek augmentation.
What to expect during Cheek Augmentation
Your surgeon will make several small, hidden incisions inside the mouth. The cheek implants are placed via this small incision, resulting in a fuller, more youthful appearance.
As an alternative to cheek implants, Dr. Nagy and Dr. Beaty may also recommend an injectable filler to build up the volume in the facial area. However, this technique does not provide permanent results and will need to be repeated when the dermal filler naturally breaks down.
Cheek Augmentation Recovery Process
Recovering from cheek augmentation may include some swelling and discomfort as well as difficulty moving your lips and mouth for a few days. Following the procedure, we will provide you with antibiotics and a mouth rinse. You will be advised to refrain from pressing your tongue into the upper gum area during recovery. Most cheek implant patients resume to normal activities within a few days to a week after the procedure.
Cheek Implant Surgery Results
The permanent results of a cheek implant procedure will take several weeks to months to fully appear. Since the natural cheekbone becomes enmeshed with the implant material over time, the results are extremely natural-looking.
Are Cheek Implants removable?
Although most patients are pleased with the results of cheek augmentation, cheek implants can be removed if you decide that this surgery was not the right choice for you.
Facial/Chin Implants Before & After Photos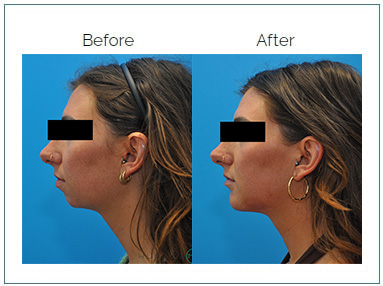 Chin augmentation, also known as a chin implant, is a procedure intended to reshape the chin by moving the jawbone forward or enhancing it with an implant. Implants can modify the underlying structure of your face for improved facial harmony and balanced features. Chin implants can also correct the following concerns:
Natural imbalances of the chin with the jawline
Receding chins caused by genetics
"Weak" chins due to excess fat tissue
Shorter necks
The chin supports and frames the entire face. If a chin is too strong or too weak, the rest of an individual's facial structure may appear disproportionate or out of balance. Additionally, aging causes the tissues and muscles in the face to lose elasticity and volume. This can lead to a descending chin, which can be corrected through chin augmentation.
Who is a good candidate for Chin Implants?
Individuals who would like to address a chin concern in order to balance their facial features are typically good candidates for chin augmentation. Chin implant candidates should also be non-smokers, free of serious medical conditions, and realistic about the outcome of the surgery.
Chin Augmentation Surgery Preparation
Dr. Beaty or Dr. Nagy will meet with patients for an initial chin implant consultation. During this time, you will have the opportunity to share and discuss your personal goals and expectation of the procedure.
They will advise patients to avoid anti-inflammatory medicines, supplements, and vitamins that may thin the blood prior to the procedure. Patients should also refrain from smoking and alcohol usage in the week before the surgery. Any medications necessary following the procedure will be prescribed as well.
What to expect during Chin Implant Surgery
Dr. Beaty or Dr. Nagy will make a small incision under the chin. A pocket that is large enough to hold the implant is made when tissue is lifted off the chin bone. The implant that is most proportional to your other facial features is then placed in the pocket, on top of the chin bone, and held in place with several small sutures. Additional sutures then close the incision.
Chin Augmentation Recovery Process
After a chin implant procedure, patients may experience some bruising and swelling for the first few days. Discomfort from chin implants is minimal and can be easily managed through pain medication and cold compresses. You should be able to resume normal activities in approximately five days following the surgery.
Chin Implant Surgery Results
Patients who undergo a chin implant procedure can expect a more contoured chin. As long as patients avoid chin injuries and maintain a healthy weight, the results from chin augmentation will be permanent.
Our providers specialize in non-surgical procedures, facial plastic surgery options and more.
If you would like to learn more about our services, please contact us to speak with one of our experts.