What Is Revision Rhinoplasty?
Revision rhinoplasty is a surgical procedure that aims to correct or improve upon the results of a previous nose surgery. It is typically performed when the initial rhinoplasty did not achieve the desired outcome or led to complications. Much like a primary rhinoplasty, the ultimate goal of the procedure is to improve breathing function and/or enhance the cosmetic appeal of the nose while bringing it into greater harmony with the rest of the face. That said, revisional procedures are often more complex in nature due to the changes made to the underlying structures during the initial surgery. Therefore, it is important to work with a highly-qualified plastic surgeon who possesses an advanced understanding of nasal anatomy and aesthetics.
Our double board-certified facial plastic surgeons, Dr. Mark Beaty and Dr. Celeste Nagy, both have extensive experience performing rhinoplasty and revision rhinoplasty. They are here to help you achieve a beautiful, functional, and exceedingly natural-looking result.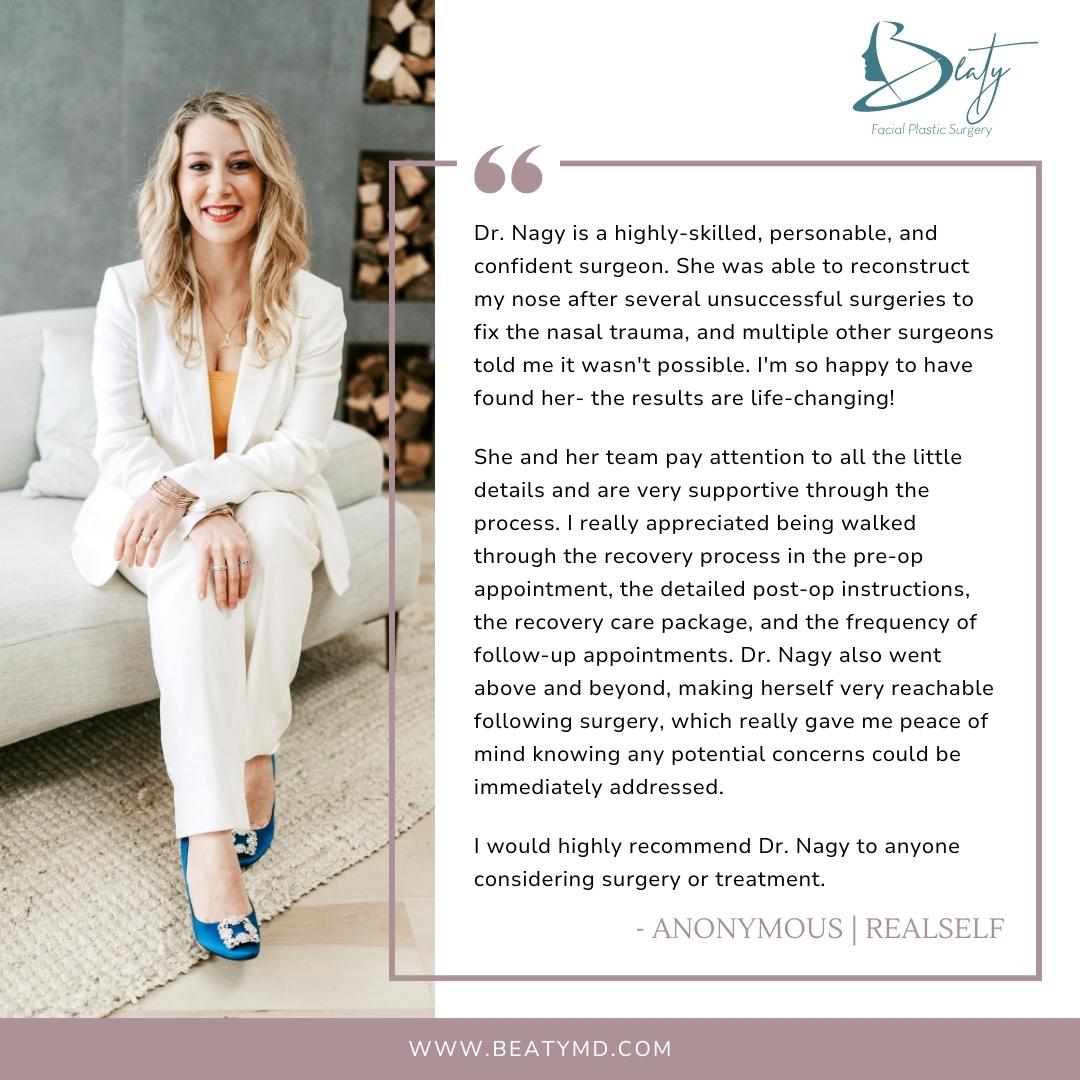 Am I a Candidate for Revision Rhinoplasty?
Candidates for revision rhinoplasty are typically individuals who have previously undergone a rhinoplasty but are dissatisfied with the outcome of the procedure. This dissatisfaction can stem from various sources, such as the nose not being aesthetically pleasing, functional issues like breathing difficulties, or both.
Additionally, candidates for revision rhinoplasty may have experienced complications from their initial surgery. These complications can include asymmetry, overcorrection or undercorrection of nasal features, excessive scarring, persistent nasal deformities, or functional problems that were not resolved.
It is important to note that revision rhinoplasty is a complex procedure and should only be considered after giving the initial rhinoplasty sufficient time to heal and stabilize. Surgeons typically recommend waiting at least one year before pursuing revision rhinoplasty to allow for adequate tissue healing and swelling resolution. During a consultation, one of our facial plastic surgeons will evaluate your concerns and assess whether revision rhinoplasty is a suitable option. 
In cases where a patient is either not a good candidate for a surgical revision or does not wish to undergo a second surgery, an injectable rhinoplasty using dermal fillers, such as Restylane® and JUVÉDERM®, may be able to provide aesthetic improvements. 
Revision RHINOPLASTY BEFORE AND AFTER PHOTOS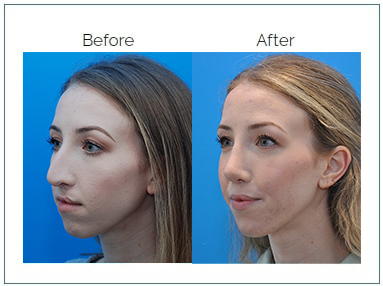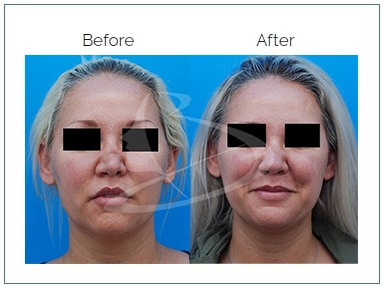 What Does the Revision Rhinoplasty Procedure Involve?
Much like a primary rhinoplasty, revisional nose surgery is typically performed under general anesthesia as an outpatient procedure. During the consultation process, your surgeon will thoroughly assess your nasal anatomy and develop a custom treatment plan to address your concerns. Whether an open or closed rhinoplasty technique is utilized will depend on the specific details of your case. Your surgeon will go over your personalized surgical plan with you in advance to ensure you feel comfortable, confident, and well-informed about the entire process.
What Can I Expect During Recovery from Revision Rhinoplasty?
After revision rhinoplasty, patients will typically wear a splint to protect the nose during the initial healing phase. The splint is usually removed within 1-2 weeks after surgery. While some bruising and swelling around the eye area can be expected, these symptoms typically subside within two weeks. Much like a primary rhinoplasty, patients may notice subtle changes to the shape of the nose—especially around the tip—over the course of the next 12-18 months as swelling subsides.
Most patients can resume their normal routines within one to two weeks after surgery. It is advisable to avoid strenuous activities until given clearance by your doctor, but lighter activities can usually be resumed within a few days. For patients who wear glasses, we recommend discussing how to do so safely with your surgeon, as improperly fitted and supported eyewear can potentially have negative impacts on your cosmetic results. 
How Much Does Revision Rhinoplasty Cost?
Each revision rhinoplasty is personalized to the specific needs of the patient, and the final costs will therefore vary between cases. It is important to note that secondary procedures are also more complex than primary ones, as your surgeon will need to account for any potential structural changes or scar tissue incurred during the initial rhinoplasty. During your consultation, one of our facial plastic surgeons will review your goals for the procedure and conduct a thorough examination of your nose. From there, a custom treatment plan can be developed, at which point a friendly and knowledgeable member of our team can give you a personalized price quote.
In order to make top-quality care attainable on nearly any budget, Beaty Facial Plastic Surgery accepts a number of different payment options, including third-party financing available for qualified applicants through trusted healthcare lenders such as CareCredit® and PatientFi®.
Contact Beaty Facial Plastic Surgery
If you would like to learn more about revision rhinoplasty, or if you are ready to schedule a consultation with Dr. Beaty or Dr. Nagy, please contact us today.