What is Otoplasty Surgery?
Otoplasty, or ear surgery, can improve the position or shape of the ear. It is often performed to correct a birth defect in the structure of the ear that becomes more prominent over time. However, otoplasty can also treat deformed ears that have resulted from an injury. Ear surgery is performed to improve the balance and proportion between the face and ears. This surgery is an elective procedure that is often used for cosmetic purposes.
Who is a good candidate for Ear Surgery?
Otoplasty can be performed on children who are as young as seven years old. At age seven, the ears have typically reached their adult size. While this surgery can also be beneficial for adults, it is most common for children who feel self-conscious because of the size or shape of their ears. Smokers are not good candidates for ear surgery as smoking decreases blood flow to the body's tissue and results in prolonged healing, increased scarring, infections, and other complications.
Ear Surgery Before and After Photos
Ear pinning surgery provides benefits that are both physical and emotional for children and adults alike. Benefits of otoplasty include:
The correction of structural issues
Improved confidence
Being able to feel like they "fit in"
Balancing ears
Making the rest of the face appear more proportional
When can Otoplasty be performed on children?
Ear pinning surgery can be performed once the ears have fully grown. This typically occurs around the age of four years old. Surgery that is performed prior to this has risks of undoing the results of the surgery, as well as creating new deformities as the ears grow and develop. Otoplasty can be performed once a doctor has determined that a child's ears have finished growing.
Prior to the surgery, all patients must meet with Dr. Nagy or  Dr. Beaty for an otoplasty consultation. During the consultation, personal goals and realistic expectations will be discussed. A complete medical history in addition to a thorough examination of the structure of both ears will also be performed. Your surgeon will use this appointment to determine whether or not you are a good candidate for ear surgery, and the extent of surgery he will perform. This is a great time to ask any questions you may have prior to undergoing otoplasty.
How should I prepare for Ear Surgery?
Being adequately prepared for any surgery can minimize the inherent stress related to the procedure. The best way to begin getting ready for otoplasty is to follow the directions provided to you by our office. You may be prescribed a few medications before the date of surgery. These should be filled right away so they are ready for use on the day of surgery. Depending on the medications prescribed, some patients may begin dosing shortly before surgery. For example, antibiotics may need to be taken starting the day before a procedure. In addition to filling prescriptions from the doctor, patients may also be advised to stop taking nutritional supplements and certain medications, such as ibuprofen or blood thinners. Patients should also avoid nicotine, smoking, including vaping, and alcohol for about two weeks before surgery.
How is Otoplasty performed?
Otoplasty is an outpatient procedure that is typically performed under local or general anesthesia. The surgery takes about one hour per each ear to perform. You hair will be pulled back away from the area of treatment to prevent any contamination or mess. During surgery, Dr. Nagy or Dr. Beaty will make a well hidden incision behind the ear. These incisions will give your surgeon access to shave, bend, or remove excess cartilage from the ear. Special sutures will then be used to "pin" the ears back to a more natural position. After completing reshaping of the ear a compressive head wrap is placed on the ear to maintain its intended position.
Fortunately, the results from ear surgery are both immediate and permanent. Immediately after otoplasty surgery, the ears will appear more pinned back than most patients desire. However, this is because a bit of rebound is expected during the healing process. Patients who undergo otoplasty enjoy natural looking, proportional ears. These patients may also benefit from a renewed sense of confidence and improved balance between the ears and face.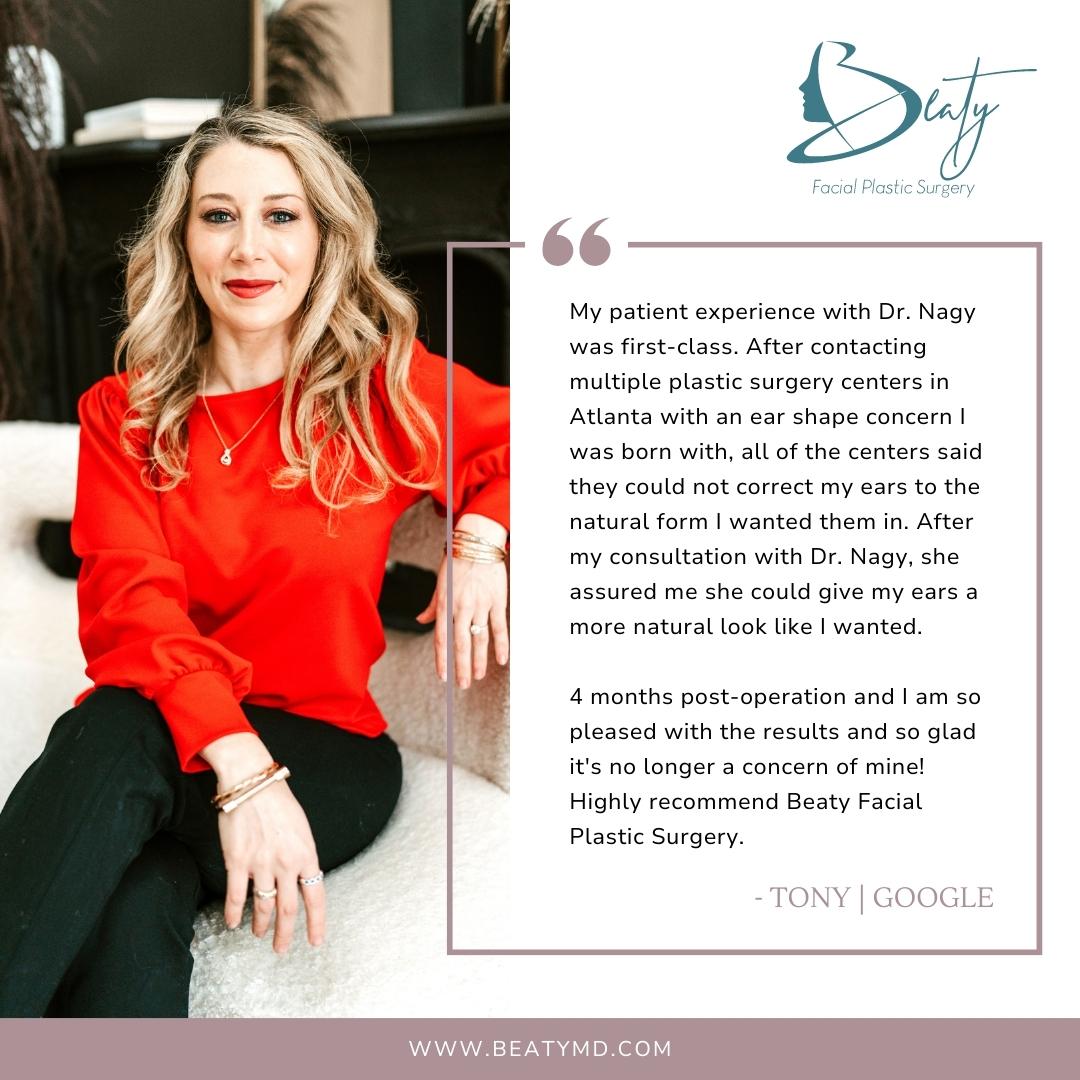 Otoplasty Recovery Process
After the surgery, patients can expect some swelling and bruising. Patients will be instructed not to remove the compressive head wrap until one day following the procedure.
When the head wrap is removed, patients will be directed to wear an elastic headband for several weeks in order to maintain the ear's proper position during healing. While most patients return to work or school within 5-7 days after the procedure, physical activities, specifically contact sports, should be avoided for at least a month.
How should I sleep after an Otoplasty procedure?
To protect the results of otoplasty and limit side effects like swelling and discomfort, patients are encouraged to adhere to the following sleep tips:
Sleep with the head propped on pillows. Elevating the head for sleep is optimal because this reduces discomfort and helps swelling and bruising to resolve more quickly. In addition to placing an additional one or two pillows behind the head, you may also place a few pillows on each side of the head or body to help maintain a comfortable sleeping position.
How long after an Otoplasty can I shower?
Patients may shower the second day after their otoplasty surgery. When showering and washing hair, avoid rubbing the area just around and behind the ears.
Is Otoplasty covered by insurance?
Otoplasty is generally considered a cosmetic procedure. Not being medically necessary, the surgery is typically not covered by insurance. The exception may be if otoplasty is performed to correct a congenital abnormality or deformity. Our practice is out of network for insurances, but patients can contact their insurance provider to understand what their carrier will and will not cover.  Patients can then submit claims for out of network reimbursement.
What will my scarring look like after Ear Surgery?
Otoplasty incisions are typically made where the ear meets the scalp. In this natural crease, it is difficult to see resulting scars even when the hair is short or worn up.
What are the risks of Ear Surgery?
The risk of complication is rare and can be minimized by following the pre- and post-operative instructions provided by your board-certified plastic surgeon.
Our providers specialize in non-surgical procedures, facial plastic surgery options and more.
If you would like to learn more about our services, please contact us to speak with one of our experts.