Skin Resurfacing
What is Skin Resurfacing?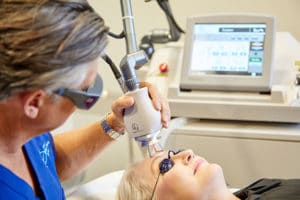 Portrait Skin Resurfacing turns back the signs of aging with the use of nitrogen plasma energy, which is applied to the skin's surface, improving texture and tone. Unlike lasers or light-based treatments, Portrait Skin Resurfacing uses highly energized gas that heats the skin, a process which promotes collagen production. This plasma treatment process is highly controlled and involves no direct contact with the skin.
Skin resurfacing is great for reducing wrinkles, sun damage and other skin defects by using the body's natural healing and collagen production processes. It stimulates collagen production for up to a year after treatment and offers similar results to laser treatments with less downtime.
Who is a Good Candidate for Skin Resurfacing?
Skin resurfacing works best for individuals who want to tighten and tone their skin, while reducing skin pigmentations, fine lines and wrinkles by using the body's natural healing and collagen production processes. This process is great for patients who are experiencing skin laxity, fine lines and wrinkles, acne scars, hyperpigmentation or other similar symptoms. Beaty Facial Plastic Surgery has a number of skin resurfacing options depending on what the patient is experiencing.
Skin Resurfacing Before & After
Before
After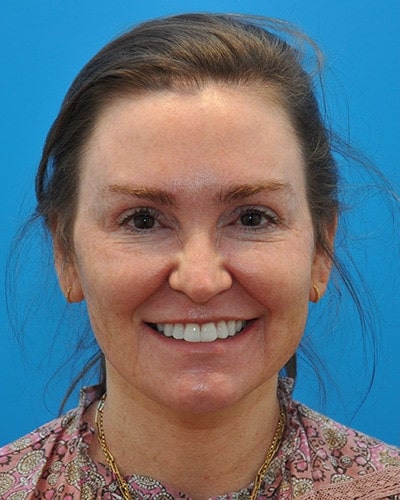 What Skin Conditions does Resurfacing treat?
This process is approved to treat the following skin conditions:
Sun damage
Fine lines
Skin laxity
Acne scars
Hyperpigmentation
Candidates may need between 1 to 4 treatments of skin resurfacing depending on the desired results. Dr. Beaty of Beaty Facial Plastic Surgery creates individualized treatment plans to help patients reach their skin resurfacing goals.
Skin Resurfacing Procedure
During the skin resurfacing procedure, Dr. Beaty will use an FDA-cleared, computer-aided device to transfer nitrogen energy to the skin on the face. Because the plasma affects the underlying layers of skin, there is no need for a gauze dressing, as the outermost layer of skin acts as a natural dressing while the body produces new collagen.
Topical anesthetic is applied to the face to numb the area before treatment so there is no pain during the procedure; however, some patients may experience a slight warming sensation in the treated areas. The procedure takes between 30-45 minutes.
What are the Side Effects of Skin Resurfacing?
Plasma skin resurfacing results in little to no pain and minimal downtime. Patients can resume normal activity immediately after skin resurfacing, but some minor side effects may occur. Low-level treatments may produce mild skin redness, itching and flaking, but these side effects will subside, and patients can use ice packs and over-the counter pain medication for relief.
High-level treatments require at least one week of downtime, as the outer layer of skin browns and sheds three to five days post-operation. As the skin regenerates, pigmentation will even out and the skin will appear smoother with diminished wrinkles and lines.
When Can Patients Expect to See Results?*
While most patients will see firmer skin shortly after treatment, plasma skin resurfacing works by stimulating the body's own collagen production so patients see continued results up to a year after the procedure. This means tighter, smoother skin that continues to improve!*
*Individual results may vary!
Dr. Beaty and team specialize in non-surgical procedures, facial plastic surgery options and more.
If you would like to learn more about our services, please contact us to speak with one of our experts.