What is Skin Resurfacing?
Skin resurfacing includes a range of procedures which are used to rejuvenate aging skin and eliminate lines, wrinkles, sun damage, and pigment irregularities.
At Beaty Facial Plastic Surgery, we use both CO2 laser and Erbium YAG laser technologies depending on the needs of the patient and desired downtime.
Laser light energy interacts with water in skin cells, eliminating surface pigment irregularities. This also stimulates the formation of new collagen and elastin as the skin heals. Your lines and wrinkles gradually fade as the healing process continues.
Were it possible to award six stars, I would. Dr. Nagy and her team (in my case this mostly included Viane, Haley, and Gary) were wonderful throughout all aspects of care. I had an aggressive, full-face CO2, and décolletage Erbium resurfacing due to sebaceous hyperplasia. Dr. Nagy answered all (and there were many) of my questions. Pain management and after-care were both fabulous. Results have been very good. The truly important and differentiating things about Dr. Nagy and her team though, are their patience and legitimate interest in you and your care. You are not forgotten or ignored, or suddenly less important after treatment and payment. If anything you are more important. There is no condescension for questions or nervousness. Bottom line, this is a good humored, caring, and talented physician and her amazing team, who work well together, and get it done—beautifully!
Who is a good candidate for Skin Resurfacing?
Skin resurfacing works best for people who want to tighten and tone their skin. This happens by using the body's natural healing and collagen production processes. This process is great for patients who are experiencing skin laxity, lines and wrinkles, acne scarring, pigment irregularities and sun damage. Our office offers many skin resurfacing options including laser, radiofrequency and chemical peel treatments. Your provider will help you choose the resurfacing procedure which will work best for your concerns.
Facial Skin Resurfacing Before & After Photos
What can Laser Skin Resurfacing treat?
Skin resurfacing procedures at Beaty Facial Plastic Surgery are used to improve a number of areas. These include:
Rhytids (facial lines)
Wrinkles
Skin laxity
Acne scarring
Pigmentation irregularities
Sun Damage
Candidates may need between 1 and 4 treatments depending on the specific type of laser or device used and the depth of the treatment. Our provider create individualized treatment plans to help patients reach their skin resurfacing goals.
Laser Resurfacing Procedure
During the skin resurfacing procedure, our provider will use FDA-approved lasers or radiofrequency devices to treat the facial skin. Laser devices for resurfacing include CO2 laser and Erbium YAG laser, which treat to varying depths of the skin depending on the needs of the patient. After the treatment, a cooling ointment is applied to the skin and instructions given for care as the skin heals over the next 3 to 7 days.
We use topical numbing medication and/or nerve blocks to prevent discomfort during the procedure. Some patients elect to take oral medications for pain reduction and relaxation during the procedure, which typically takes 30-45 minutes.
See what our patients are saying!
Four days ago I completed by third session with Dr. Laura Beaty and could not be more pleased with my results. I had a full face Erbium Laser Resurface. The procedure was for both preventive and cosmetic reasons.
The entire team at Beaty Facial Plastic Surgery is professional and well informed. I highly recommend Dr. Laura Beaty. You will not find anyone better than Laura Beaty for all you healthcare and skin care needs.
I have encouraged all of my friends to see Dr. Laura Beaty for a consultation.
- Anonymous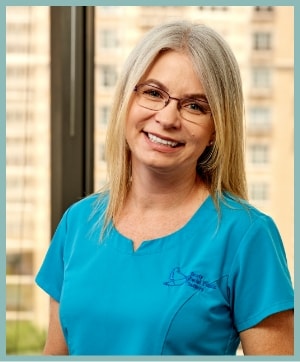 Skin Resurfacing Side Effects
Laser skin resurfacing results in the removal of parts of the upper layer of skin. Because of this, we are able to stimulate the healing response which creates new collagen and eliminates lines and wrinkles. Depending on the specific treatment performed, our provider will prescribe a specific skin care regimen for the first 4 to 10 days of healing. During this time, exercise will be limited to prevent sweating on the healing skin. Discomfort is generally minimal and well-controlled with over-the-counter medicines.
Results After Skin Resurfacing*
Improvement in lines, wrinkles and skin tone will be apparent immediately. These results will continue to progress for up to a year as the healing process and collagen production continue. Improvement in pigment irregularity is seen immediately after treatment.*
*Individual results may vary!
Our providers specialize in non-surgical procedures, facial plastic surgery options and more.
If you would like to learn more about our services, please contact us to speak with one of our experts.