What is revision rhinoplasty?
A revision rhinoplasty is any rhinoplasty procedure performed on a patient who has had a previous rhinoplasty procedure. Most patients have excellent results from their rhinoplasty and are very happy with their improved nose shape. Occasionally, we see patients who develop unfavorable results from a rhinoplasty and seek help for revision of their procedure to obtain better shape, breathing or both.
How often do you perform revisions and what is the most common reason?
Dr. Beaty has extensive experience in rhinoplasty, including revision rhinoplasty, having performed over 3000 nasal procedures in his career. Revision rhinoplasty represents about 10% of our rhinoplasty cases and is performed monthly. The most common reasons for revision include development of asymmetry, breathing difficulty, residual humps or deformities and loss of structural support.
What are other reasons for someone to have a revision rhinoplasty?
Some patients decide that they want additional change to their nasal shape. This may range from subtle reshaping of the tip to more dramatic narrowing or size reduction. Nasal function is also impacted by rhinoplasty and patients come to us at times happy with the appearance of their nose but with difficulties breathing. Our surgeons are experts in nasal anatomy and surgery and can help patients improve breathing without compromising the aesthetic result.
How long is recovery after a revision rhinoplasty?
There will be swelling and bruising after a revision rhinoplasty. Most of the swelling resolves in the first three to four weeks. With revision procedures, some subtle areas of swelling may take longer to resolve. What this means is you can expect your nose to look acceptable within a few weeks, however, the final result may take 12 – 24 months to stabilize.
Why does revision rhinoplasty cost more?
Revision rhinoplasty is more complicated than primary rhinoplasty because in addition to the complexity of nasal anatomy in general, there is scar tissue present from the previous procedure. Cartilage and bone have been repositioned, modified or removed. Therefore, the revision rhinoplasty surgeon faces greater challenges in successfully modifying the nasal shape while preserving structure and function. Frequently, revision rhinoplasty involves obtaining cartilage graft material from the nasal septum, ear, or rib, increasing length of surgery and cost.
What questions should I ask my surgeon during a revision rhinoplasty consult?
The most important question is to make sure your surgeon is experienced and comfortable with revision rhinoplasty procedures. All rhinoplasty is complex, revision cases more so, requiring a high level of experience and skill. Your surgeon should honestly assess with you the degree of complexity and risks of surgery in your particular case. Reviewing before and after photos of your surgeon's revision cases should also be part of the consultation process.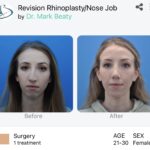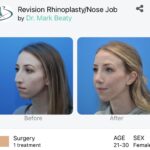 Both Dr. Beaty and Dr. Nagy are double board-certified facial plastic surgeons and with expertise in rhinoplasty.