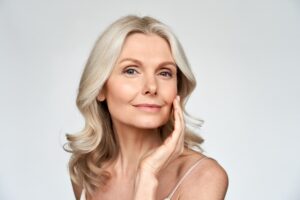 "With the wide variety of surgical and non-surgical facial rejuvenation options available today to address individual needs, a tailor-made approach is necessary. To best serve patients, I have to take into account what they want to achieve, what kind of lifestyle they live, and what kind of time they can allow for the healing process before recommending procedures that will meet their needs. My overall goal is to educate patients on options and create natural results for a refreshed appearance and confidence."
–Dr. Celeste Nagy
The face has many important functions both with non-verbal communication as well as a reflection of our health, vitality, and well being through all phases of life. Better living through exercise and nutrition are helpful, but can only take us so far. Cosmetic procedures are now
commonly employed to maintain the bright, well-rested appearance of the face that eventually fades from all of us.
The introduction of new and changing technology and procedures has influenced patient expectations considerably. Most people seeking facial rejuvenation have abandoned the invasive procedures of the past for an approach that is customizable, obtains natural looking results and requires a shorter recuperative period.
Board-certified facial plastic surgeon Dr. Celeste Nagy works exclusively on the face and neck in her practice at Beaty Facial Plastic Surgery in Alpharetta and Midtown. According to Dr. Nagy, the entire treatment process, from the time that patients have their first consultation through post-treatment follow-up, is managed to provide an experience that is private, supportive and transformative.
The goal of treatment is to optimize patient self-esteem and lifestyle, and the treatment process should not detract from that. Subsequently, the lifestyle that the patient leads often impacts the treatment decision. Based on what an individual patient wants, there may be two or three procedures that are appropriate. Yet it is important to keep the patient's lifestyle in mind and we may choose a treatment plan that would take more sessions for the patient to reach the desired goals, but would minimize any recuperative period. It is important for Dr. Nagy to educate patients on their spectrum of options during the initial consultation.
With the breadth of cosmetic options for facial rejuvenation ever expanding, Dr. Nagy spends an enormous amount of time reviewing new cosmetic techniques. However, she does not employ every new technique in her practice, because she looks to provide only the procedures that offer patients good value. She looks to offer her patients a variety of surgical and non-surgical facial rejuvenation options based on their goals, lifestyle, and expectations.
The deep plane facelift with or without fat grafting corrects some of the early signs of aging by restoring fullness to the area underneath the eyelids, lifting the cheekbones, and restoring the positioning of the lower face and neck where jowls and loose skin have developed. The procedure uses well-placed incisions around and behind the ear and under the chin, if necessary. From these areas, deep tissues are grasped and elevated, then held in place by suture. The skin is not separated from the deeper tissues, therefore healing and recovery are much faster. Patients are generally restaurant ready in about 2 weeks. The goal is to look refreshed and turn back time, but the results are always natural.
The Profound® non-surgical facelift uses radiofrequency to tighten skin. This technology uses small needles to emit radiofrequency in the dermal tissues to build collagen and tighten skin. Though the results are not as dramatic as surgery, it is an excellent non-surgical option for patients that are starting to develop jowls and loose skin, but are not quite ready for a facelift. However, while the deep plane facelift is performed under either deep sedation or general anesthesia, the radiofrequency lift is performed while the patient is awake with local anesthetic. The benefits of these procedures include minimal downtime and no incisions. Although some amount of bruising and swelling can be expected, normal activities can be resumed within a few days and patients can continue to wear makeup. Best results are seen after 3 months.