Dr. Celeste Nagy, Board-Certified Facial Plastic Surgeon
Dr. Celeste Nagy is a board-certified facial plastic surgeon specializing in cosmetic and reconstructive surgery of the face and neck as well as non-surgical facial optimization. Her passion for facial plastic surgery is founded in her commitment to patient care, attention to surgical detail, and enthusiasm for the artistry of blending the elegance of aesthetics with the science of facial reconstruction. She offers a unique female perspective on facial aesthetics and her goal is always to create natural results that leave her patients feeling refreshed and confident.
She is originally from Dallas, Texas and attended University of South Carolina Honors College on a full academic scholarship where she received her Bachelor of Arts degree in Anthropology with a minor in Spanish while taking her pre-medical courses. After college, she spent a year in AmeriCorps as a Spanish-speaking literacy specialist working with underserved communities in Austin, Texas and doing medical translation at a volunteer clinic.
Dr. Nagy received her Doctor of Medicine degree from the illustrious Baylor College of Medicine in Houston, Texas. She was then selected for a highly competitive position as an Otolaryngology-Head and Neck Surgery Resident at Emory School of Medicine in Atlanta, Georgia where she completed a five year surgical residency. During her chief year of residency, she was awarded the Humanitarian Travel Grant in order to perform cleft lip and palate repair in Bolivia. Dr. Celeste Nagy then completed the highly coveted facial plastic surgery fellowship under the direction of the world-renowned Dr. Stephen W. Perkins. Dr. Nagy did additional training with several surgeons around the country in order to specialize in facial feminization and masculinization surgery.
Dr. Nagy has been invited to present her research at several conferences and is published in multiple international medical journals. Recently, she and her colleagues research on the effect of collagen synthesis in skin with microneedling and topical poly-L-lactic acid application won the Sir Harold Delf Gilles Award from the American Academy of Facial Plastic & Reconstructive Surgery (AAFPRS) for the best basic science research. During fellowship, she authored several publications, particularly on the topics of male facelifts, longevity of lip lifts, and facial contouring with radiofrequency. She continues to be asked to teach and present her work at conferences all over the country.
She is an active member of the American Academy of Facial Plastic and Reconstructive Surgery, Face to Face Domestic Violence Program, and American Academy of Otolaryngology-Head and Neck Surgery.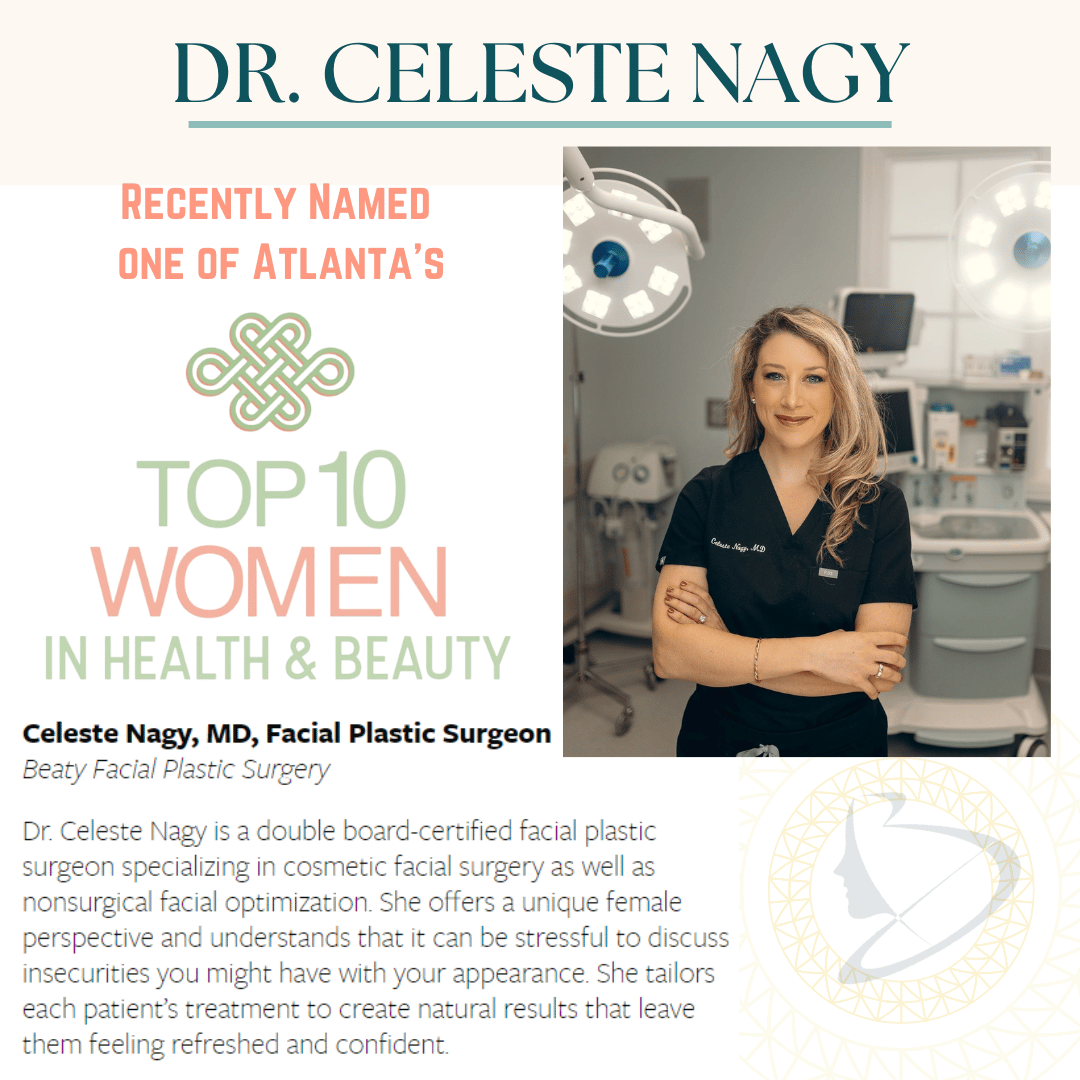 Dr. Nagy is very excited to join Beaty Facial Plastic Surgery and serve both the Alpharetta and Midtown offices! In her free time, Dr. Nagy enjoys spending quality time with her family, friends, husband, and their dog, Finley. She enjoys great food, live music, traveling, craft cocktails, and a variety of outdoor activities like bike riding, kayaking, tennis, and yoga.
"Is there an option for more than 5 stars? I am at an absolute loss for words of positivity about my experience with Dr. Nagy. From the minute I walked in with a warm greeting and smile, to an extensive overview of the process, and thorough answers to each and every one of my questions, my experience could not have been more amazing. I was absolutely elated with the outcome of some facial fillers and light botox in my face. I am not a newbie when it comes to aesthetics, so I have a lot of experience across different procedures and doctors, and I can confidently say I will not be returning anywhere else but Dr. Nagy. The in-person experience, professional knowledge, and unparalleled results leave Dr. Nagy and the team unmatched. Can't wait for my next appointment!" - Mitch, Google Review