Eyelid Surgery / Blepharoplasty
What is Eyelid Surgery?
Commonly known as eyelid surgery, blepharoplasty improves the appearance of the upper eyelids, lower eyelids, or both. Eyelid surgery removes excess skin, fat, and muscle from the upper and lower eyelids to decrease puffiness below the eyes, reduce wrinkles around the eyelids, and correct upper lid drooping.
How does aging affect the eyelids?
As we age, our skin gradually loses its elasticity. Paired with the constant pull from gravity, this loss in elasticity causes excessive skin to collect around the upper lids, leading to drooping eyelids. Additionally, underlying muscle laxity and the loosening of the skin can prompt lower-lid aging.
Candicacy for A Blepharoplasty
Physically healthy men and women ages 30 and older who are interested in fighting the effects of aging skin are the best candidates for eyelid surgery. Blepharoplasty patients should have healthy facial tissue and muscles as well as realistic expectations. Individuals with serious eye complications, pre-existing medical conditions, or active diseases are not good candidates for this procedure.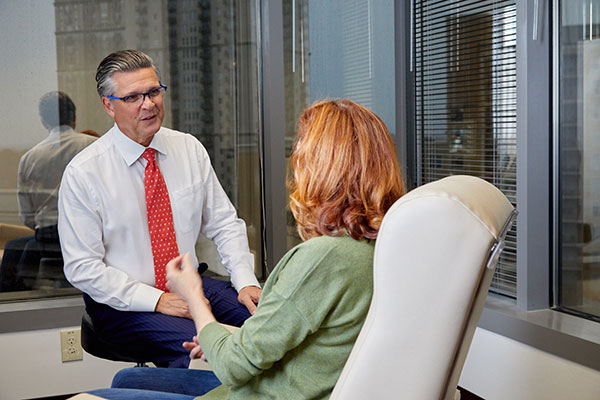 What to Expect During Eyelid Surgery
During consultation, Dr. Beaty discusses whether upper eyelid, lower eyelid, or a surgery for both lids will provide the best outcome for you. Here's what you can expect from each procedure:
Upper Eyelid Surgery
Incisions will be placed in the natural crease of the upper eyelid, so they will remain hidden when the eyes are open. Any excess fat or skin will then be removed. Because of the strategic placement of the incision, all signs of surgery will be nonexistent once the healing process is complete.*Individual results may vary!
Lower Eyelid Surgery
Before
After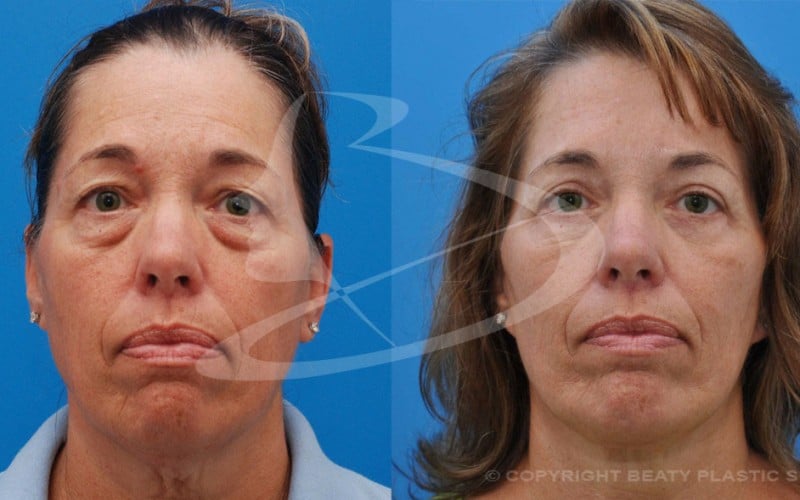 In order to remove excess skin from the lower eyelid, an incision will be placed just below the lower lash line. Dr. Beaty may also use a transconjunctival incision, or an incision hidden on the inside of the lower eyelid, as an additional way to remove excess fat and correct lower eyelid puffiness.*Individual results may vary!
Click Here To View More Before After Photos
Eyelid surgery is an outpatient procedure that is performed by double board-certified facial plastic surgeon Dr. Beaty in our Alpharetta facility. The blepharoplasty procedure typically lasts anywhere from one to two hours.
When Can Patients Expect to See Results from Eyelid Surgery?*
Patients typically begin to see noticeable blepharoplasty results within several weeks. Although eyelid surgery will not stop the aging process, the results are long lasting. While upper eyelid surgery may need to be repeated after 10-20 years, the effects of lower eyelid surgery can last a lifetime.
Recovery Process after your Blepharoplasty
Both lower and upper eyelid surgeries are minimally invasive and require little recovery time. After a blepharoplasty procedure, Dr. Beaty will loosely cover the patient's eyes with gauze. In addition, cold compresses and lubricating ointment may be applied. Patients may experience bruising, swelling, dry eyes, or irritation, but these symptoms typically fade within a week or two following the procedure.
Dr. Beaty will prescribe eye drops and ointments to keep the eyelids moist during the recovery period. Normal activities can be resumed two weeks following the procedure.
Is Blepharoplasty Covered By Insurance?
Eyelid surgery, like most cosmetic procedures, is not covered by health insurance.
*individual results may vary
Dr. Beaty and team specialize in non-surgical procedures, facial plastic surgery options and more.
If you would like to learn more about our services, please contact us to speak with one of our experts.