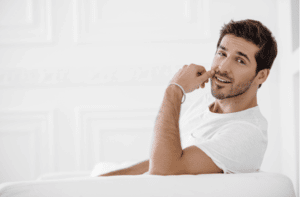 Here at Beaty Facial Plastic Surgery, we are leaders in using non-invasive laser treatments to help improve the appearance of your skin. Our large variety of lasers can be used for skin resurfacing and can also remove:
Tattoos
Spider veins
Hair
Pigments
Our laser treatments also include Ultherapy, which stimulates collagen production and tightens tissue of the face and body through ultrasound. These treatments will give excellent results and minimal downtime for the everyday busy man.
How Does This Non-Invasive Treatment Work?
We recommend setting up a consultation with one of our highly qualified doctors, so they can evaluate your skin and discuss a personalized treatment plan. This treatment will be very brief and won't take more than an hour out of your day. The doctor will use a specific device that uses a unique wavelength of light and targets any pigmented area. You may feel some stinging or burning sensation, but nothing too intense may bring you discomfort. The results will be noticeable after your first treatment, and the doctor will advise you of any further treatments needed depending on your desired results. It's essential to incorporate daily sunscreen into your skincare routine to protect your skin after the laser treatment and ensure you won't further damage your skin. Check out these before and after pictures, and the results will amaze you!
Who's a Perfect Candidate for the Treatment?
This treatment is ideal for all men who want to improve their skin's appearance. If you want clearer, smoother, or youthful skin, this is your treatment. Remember, the cosmetic aesthetic is important for all genders. Improve the appearance of your skin and gain more confidence! We highly recommend you check out our Instagram account to see all the great treatments we offer!
If you're considering getting a Non-Invasive treatment, call us at 770-753-0053 to set up a consultation today! We proudly serve our patients in the Atlanta and Alpharetta, GA areas.