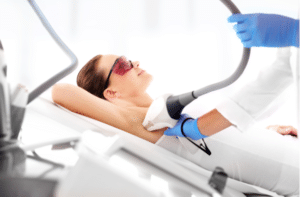 If you're tired of shaving, plucking, waxing, or otherwise manually removing hair from your body, laser hair removal could be the answer you're seeking. This simple procedure can delay hair growth and give you long-lasting smoother skin.
About Laser Hair Removal 
Laser hair removal is a procedure that removes unwanted hair with minimal discomfort. It works through a laser beam aimed at the hair you wish to remove. The melanin, or pigment, in the hair, absorbs the light, which damages the hair follicle enough to hinder future growth.
This procedure can be used nearly anywhere on the body except near the eyes.
Who Can Get Laser Hair Removal? 
Hair color is a deciding factor in laser hair removal. Light-colored hair, such as gray, white, or light blond, will not be targeted by the laser, so you will not be able to remove this hair.
However, darker hair is usually what people wish to remove anyway, and this is what the laser targets. Laser hair removal can be performed on all hair types and any skin color.
About the Treatments 
Since the laser only removes hair in a specific phase of growth, between three and six treatments spaced 4-8 weeks apart are recommended to treat an area completely. These recommendations can change due to your hair texture and the area from which the hair is being removed.
Is the Hair Permanently Removed? 
Laser hair removal isn't usually permanent, though it effectively delays hair growth for long periods of time. Occasional touch-up treatments maintain the effects.
Does It Hurt? 
Laser hair removal is nearly painless for many people, though some have minor discomfort, sometimes described as a rubber band being snapped against the skin. A topical anesthetic is used in an attempt to avoid any discomfort.
After treatment, the skin may be red, sore, or swollen, but this usually lasts only a few days and can be eased with cold and moisturizing or anti-inflammatory creams.