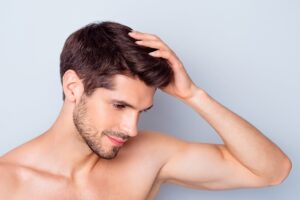 Hairline lowering or forehead reduction surgery is a procedure that brings the hairline forward and makes the forehead shorter. In women, the ideal length of the forehead is about 5.5-6 cm. Whereas in men, the ideal forehead is longer at about 6-7 cm. An overly long forehead makes facial proportions disharmonious. Many people are bothered by their long foreheads or "five finger forehead" and will adjust their hairstyles to cover this area. 
Hairline lowering or forehead reduction surgery is a procedure that can both bring the hairline forward and shorten the height of the forehead to make this area more proportional to the rest of the face. During your consultation, Dr. Nagy or Dr. Beaty determine the laxity of your scalp and take measurements to see how far forward your hairline can be advanced and determine the shape of the hairline after the procedure. 
The surgery is usually done under IV sedation or general anesthesia and takes about 1.5 – 2 hours. An incision is made in front of the hairline and the scalp is advanced forward. With advanced techniques, a special incision is performed so that your hair grows back through the incision. Therefore, the thin line scar is completely hidden in the hair once the incision has healed. Sutures remain in place for 1 week and that is the usual downtime for the procedure. It is important to properly care for the incision. Incision care is thoroughly discussed with you before and after surgery. 
Hairline lowering or forehead reduction surgery is performed on both men and women as well as all ethnicities. Specifications for your hairline shape and texture are discussed during your consultation to create the best possible outcome. This procedure is a permanent solution to high hairlines and long foreheads. This procedure does not affect the brow position. However, a brow lift can be performed simultaneously if a patient has drooping eyebrows and desires this. 
For more information about hairline lowering and forehead reduction surgery, call Beaty Facial Plastic Surgery for a consultation to determine if you're a candidate and which approach is right for you!