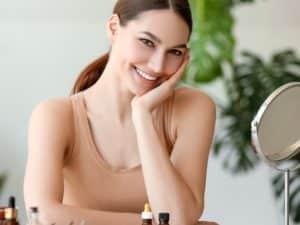 There are many different skin care treatments available today. Each one falls somewhere on the spectrum of being aggressive and longer-lasting, or more gentle and requiring more frequent maintenance visits. Although the longer-lasting result can be more appealing, there is also a slight increase in the risk of other skin conditions developing.
At Beaty Facial Plastic Surgery, the team at Beaty Facial Plastic Surgery choose to use the Perfect Derma Peel to provide a light to medium peel that is very effective but comes with minimal pain and lower down time than other treatments.
The Perfect Derma Peel is a special combination of Glutathione, Retinoic and Salicylic Acids, Phenol, TCA, and Vitamin C. Its versatility can help reduce and potentially reverse the look of fine lines, wrinkles, laugh lines, blemishes, and hyperpigmentation around the face and neck, and in some cases, on the backs of hand.
The Perfect Derma Peel has been proven very effective for many skin conditions. With a light chemical peel, the Perfect Derma Peel removes just the outermost layer of skin, giving skin a brighter and rejuvenated look. A medium chemical peel also treats the middle layer of skin to help remove damaged skin cells, as well as reduce the appearance of fine lines and wrinkles.
Your skin may look red for the first day and gradually change to a tanned tone before peeling and revealing healthy, younger-looking skin. With the Perfect Derma Peel, your skin will show that youthful look, with only 2-3 days of peeling, much shorter than many other chemical peel treatments.
If you want to hear more about The Perfect Derma Peel or regain a youthful glow and healthy skin, contact Dr. Beaty at Beaty Facial Plastic Surgery in Alpharetta, GA at 770-753-0053, or visit www.beatymd.com to schedule a consultation today. The team at Beaty Facial Plastic Surgery will work with you to develop a treatment plan that provides the longest-lasting results, using safe and easy treatment methods that fit your schedule.