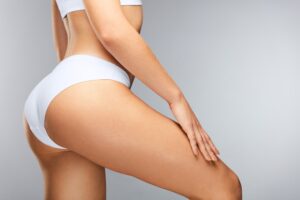 Even with rigorous exercise and a healthy diet, many women do not have the shape and size to their butt they desire. In some cases, they may feel it is too small or not defined enough. Others may have a significant amount of unwanted body fat and, in addition to not having the desired shape, may have significant cellulite that keeps them from the toned and tight look they are after.
Although plastic surgery has had a tremendous benefit from medical and procedure advancements and can safely bring nearly any cosmetic result you want, the idea of going through an invasive surgery may be a significant downside. Although modern cosmetic surgical procedures are safe, they still have slightly more risks than non-invasive treatments.
Along with often having no recovery or restrictions after the procedure, many non-invasive treatment options can be combined into one session or a holistic treatment plan. This is especially true for women wanting to augment their butt while removing the appearance of cellulite non-surgically.
Radiesse® has been used as an FDA-approved injectable dermal filler that increases volume from below the skin. Radiesse® differs from many other dermal fillers as, rather than collagen, it uses microspheres of calcium hydroxylapatite that, along with adding volume, encourage the body's natural production of collagen.
Although Radiesse® is most commonly used to reduce the appearance of lines and wrinkles on the face, promising results have been seen when used as a volume-increasing filler in the buttocks. However, Radiesse® alone does very little to address cellulite. Thankfully, these treatments can be safely combined with others.
The Beaty Facial Plastic Surgery team in Alpharetta and Atlanta, GA, is available to answer all your questions about non-surgical butt augmentation or any other treatment option. Visit the website at www.beatymd.com or call 770-273-0032 to schedule a consultation today.