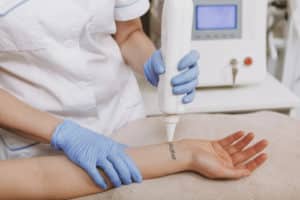 Whether to celebrate a specific day, to serve as a memory of someone, or just as a work of art, tattoos are a permanent way to an image or phrase placed on your body. Occasionally, some people change their minds about tattoos or decide they no longer match their lifestyle. Others may want a "clean slate" and start a new tattoo without trying to blend in with one there.
Although tattoos are considered permanent, laser light and energy have been successfully and safely used to greatly decrease the appearance of unwanted tattoos and, in some cases, make them nearly invisible. The results vary greatly and depend on the ink used, how deep the tattoo pigment is, and how each person may react to the laser treatments.
Laser tattoo removal treatments are performed in the office and, depending on the size of the tattoo to be removed, can last between 30 minutes to an hour. The laser device emits a strong and focused amount of energy to break down the tattoo ink pigments into smaller particles that the body can naturally and safely absorb.
Once the pigments are broken down, the body begins to heal and fill in the gap where the ink used to be with new, naturally colored skin. Since many tattoos are layered, multiple treatments are needed to provide the best results.
Repeat appointments, spaced about a month to 6 weeks apart, provide the greatest chance of success as the body is given time to absorb the pigment particles but has not completely healed over the treatment area. This will help reduce any damage to healthy skin or tissue. Most patients require between 5 and 9 treatments to see the best results.
If you have a tattoo you changed your mind about and want to get rid of, contact Beaty Facial Plastic Surgery in Alpharetta or Atlanta, GA, for a consultation. The expert staff will develop a treatment plan specific to your goals and provide a realistic expectation of results. Schedule an appointment by calling the office at 770-273-0025 or visiting www.beatymd.com.