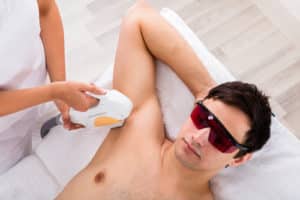 Women are not the only ones concerned about their appearance, whether it's unwanted body fat or fine lines and wrinkles. Men often have the same concerns. It is one of the reasons our board-certified doctors and expert Nurse Practitioner at Beaty Facial Plastic Surgery are proud to offer a suite of procedures geared for men. 
Chin Augmentation and Rhinoplasty
Men are often dissatisfied with their chins. Your chin affects the appearance of your jawline. A small or flat chin can throw off your profile. Sometimes, it can even affect your frontal appearance.
Chin augmentation permanently enhances the shape of your face, and the results are surprisingly natural. The implants can be tailored for the best results, and your recovery time is rarely longer than a couple of weeks.
The shape and size of your nose can affect your facial appearance from any angle. Our doctors will work with you to help you achieve your desired results. Whether it is straightening a crooked nose, removing humps, or redefining the area, our skilled physicians are ready to help.
Face and Eyelid Lifts
Guys naturally have larger muscles in the neck that can sag and stretch with age. Using our trademarked ProLIFT technique, we can restore your natural jawline and tighten loose neck skin.
Men also have heavier skin around the eyes than most women. As you age, the skin can start sagging, giving you a sleepy or hooded look. Using injectables and surgical procedures as required, we can remove excess skin and tighten the area around your eyes. You look more alert and vibrant. The procedure can also help you look years younger.
Hair Loss Treatment
Hair loss is a common complaint among men of all ages, but there are treatment options. Our platelet-rich plasma treatment uses your blood cells to encourage hair regrowth. Over time, most of our patients start seeing an improvement in hair regrowth.
Contact Beaty Facial Plastic Surgery to Learn More
Guys can be as dissatisfied with their appearance as women, which is why the Beaty Facial Plastic Surgery center in Alpharetta and Atlanta, GA, are happy to offer a suite of treatments for our male clients.
Contact us online or call us at 770-753-0053 for a consultation at our Alpharetta center. Atlanta residents can call 770-753-0053.