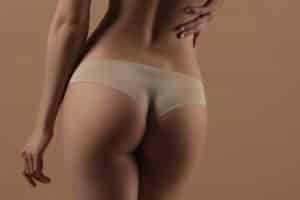 As an injectable dermal filler, RADIESSE® has been used for years to add volume beneath the skin and smooth fine lines and wrinkles around the face. Not only are there very few side effects, but the use of RADIESSE® is also well studied and is even an FDA-approved procedure to add volume to areas of the body.
More recently, RADIESSE® has become a non-surgical alternative for butt augmentation. Just like when it is used to fill in sunken areas on the face, using RADIESSE® to enhance the size and shape of your butt is very easy, convenient, and comes with little to no recovery period.
After a consultation to discuss your aesthetic goals and what you hope to achieve for the size and shape of your butt, the procedure will be performed in the office setting. As it is non-invasive, there is no preparation or aftercare needed.
Depending on your specific and customized plan, Dr. Nagy or Gary will inject an exact amount of RADIESSE® into particular areas in your butt. With an expert eye and experience, Dr. Nagy or Gary can give you the look you are after without the risks and complications of invasive surgery.
There will be some swelling and soreness over the next few weeks. These will subside over time, and you should begin to see the results shortly after that.
Although the results from RADIESSE® are temporary and additional treatment sessions will be required to keep the same appearance, RADIESSE® stimulates your body to increase the natural production of collagen.
Over time, the results from the repeated treatments will build on each other, and the results will start to last longer with each appointment. Although the results will still not be permanent, over time, you will likely be able to wait longer between each one and require fewer amounts of RADIESSE® to see the same results.
If you do not like the appearance of your butt, but do not want to undergo invasive surgery, contact Dr. Nagy or Gary at Beaty Facial Plastic Surgery in Alpharetta and Atlanta, GA, to see if RADIESSE® will work for you. Call the office at 770-273-0029, or visit www.beatymd.com to schedule a consultation today.