What is Radiofrequency?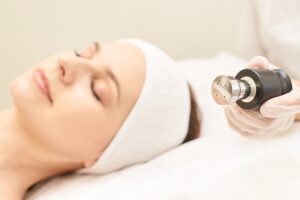 Radiofrequency is the oscillation rate of an alternating electric current or voltage of a magnetic or electromagnetic field in the frequency range of 20kHz to 300 GHz. Basically, it is energy. And there is benefit to delivering that energy to your face.
Why Do You Want Radiofrequency Treatment for the Face?
Improves fine lines and wrinkles
Improves texture and tone
Improves acne or other scars
Decreases pore size
Tightens skin
Improves cellulite and stretch marks
How Is The Radiofrequency Energy Delivered?
We use microneedling devices to deliver the radiofrequency energy to the face and body. In our practice, we use Profound and Pixel-8 RF devices. Profound delivers more energy to deeper tissues and thus has more downtime. The Pixel-8 RF device has far less downtime and is great as a routine maintenance procedure. The procedures are used to tighten skin of the face and neck or body and increase collagen and elastin for healthier skin and a reduction of wrinkles.
What Are the Differences Between Devices?
Currently, there are multiple radiofrequency devices on the market. So, you will find that different practices will promote their specific device. While we offer Profound and Pixel-8RF, you may have also heard of one of the following: Morpheus8, Infini RF, SylfirmX, Vivace, Genius, Secret RF, EndyMed, and Fractora.
Regardless of the name of the device, microneedling using radiofrequency rejuvenates the skin via energy moved through the superficial skin needle injuries. Emitting the energy deep into the skin leaves the skin with pinpoint bleeding and minor swelling and redness. The energy and depth can be increased or decreased based on what the patient's needs are.
We chose the Pixel-8RF device as it is a two megahertz system and can deliver a higher amount of energy more quickly without as much discomfort. We chose Profound because it delivers the most substantial results with one treatment. This, of course, causes more downtime due to a more intense treatment. Therefore, patients often require a week off of work; whereas, Pixel-8RF patients can return to work the next day.
Can You Combine RF Microneedling With Other Treatments?
We often combine the radiofrequency treatment with a laser skin resurfacing, chemical peels, and Ultherapy for a more improved result and to combine procedure downtimes.
Am I a Candidate for a Radiofrequency Treatment?
If you want your best skin possible, yes you are a candidate. The radiofrequency procedures can be used with all skin types.
Laura Beaty MD