Nose Surgery / Rhinoplasty
Rhinoplasty, or a "nose job," is the surgical alteration of the nose to change its shape or improve its function. A rhinoplasty procedure is particularly beneficial for a patient who wants to:
Improve the size, shape, and overall appearance of a nose.
Improve a droopy or enlarged nasal tip, an off-center or crooked nose, large, wide, or upturned nostrils, a visible bump on the nasal bridge, or an asymmetrical nose.
Correct a nose disfigurement that has occurred because of a previous injury or birth defect.
Correct a deviated septum or a nose-related breathing problem.
The overall goal of a nose job is to correct the proportion of the nose in order to create facial balance and solve any nasal breathing concerns. Instead of drastically changing an individual's appearance, nose surgery enhances natural beauty. As a result, Dr. Beaty's patients often benefit from improved confidence and self-esteem.
Who Is a Good Candidate for a Nose Job?
Healthy patients who are looking to improve the appearance or function of their nose are usually the ideal candidates for rhinoplasty. Since nose surgery should only be performed on patients with a fully developed nose, patients should be at least 15 years old.
All rhinoplasty candidates must also have a positive attitude and realistic expectations of surgical results. It's important to note that individuals with bleeding disorders such as hemophilia are not good candidates for this procedure.
How is Rhinoplasty Performed?
A nose procedure typically lasts one to three hours, but may take longer in certain situations. Depending on the patient's individual needs and desired results, Dr. Beaty will perform either an open or closed procedure.
Although the wide range of possible corrections makes it difficult to provide procedural details, Dr. Beaty will perform most rhinoplasty surgeries with the use of general anesthesia.
Preparing for Rhinoplasty Surgery
All candidates interested in rhinoplasty will meet with Dr. Beaty for an initial consultation. This consultation will consist of a discussion of the patient's medical history, the motivation for the surgery, and expectations.
Photos of the nose will be taken from different angles so that Dr. Beaty can use computer imaging to demonstrate what kinds of results are possible. These photos are also useful during post-surgery evaluations and used for reference during the procedure.
Prior to the surgery, patients must:
Stop smoking for at least six weeks prior to the procedure.
Avoid taking anti-inflammatory drugs and aspirin.
Stay hydrated.
Avoid alcohol for five days before surgery.
Make special arrangements for the day of the rhinoplasty surgery. A friend or family member should drive the patient home and stay with him or her for a few nights following the surgery to assist with personal care tasks during recovery.
What to Expect After Rhinoplasty
The first week following the surgery, patients will wear a nasal splint for nose support. Nasal packing is not necessary for most rhinoplasty procedures.
Although patients can expect some bruising and swelling around the eye area, these symptoms typically resolve themselves within 2 weeks. The splint will be removed within 7 – 10 days following the procedure.
Patients are encouraged to avoid strenuous activities for several weeks after the surgery, but may resume lighter activities after a few days. Additionally, patients should not wear glasses without proper support to keep pressure off of the nose for a few months.
What Kind of Results Can Rhinoplasty Patients Expect?*
Rhinoplasty results are permanent. Therefore, it's crucial to understand what type of results can be expected prior to the procedure. Dr. Beaty's rhinoplasty patients often experience life changing results and a renewed sense of self confidence.
Before
After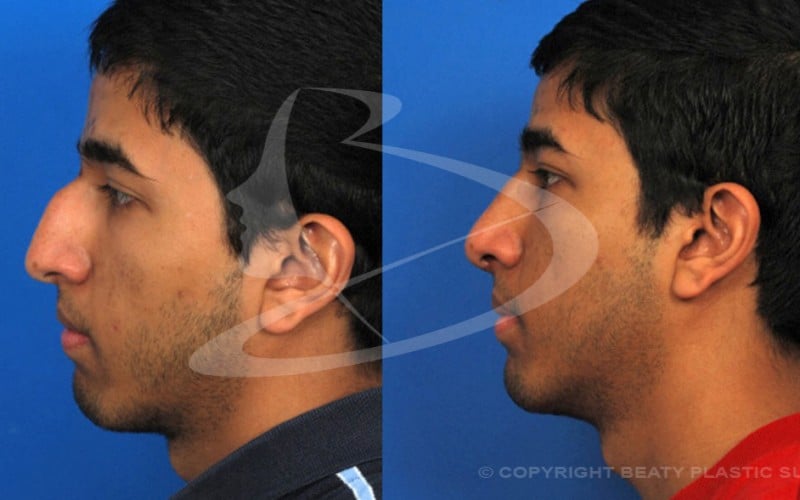 Before
After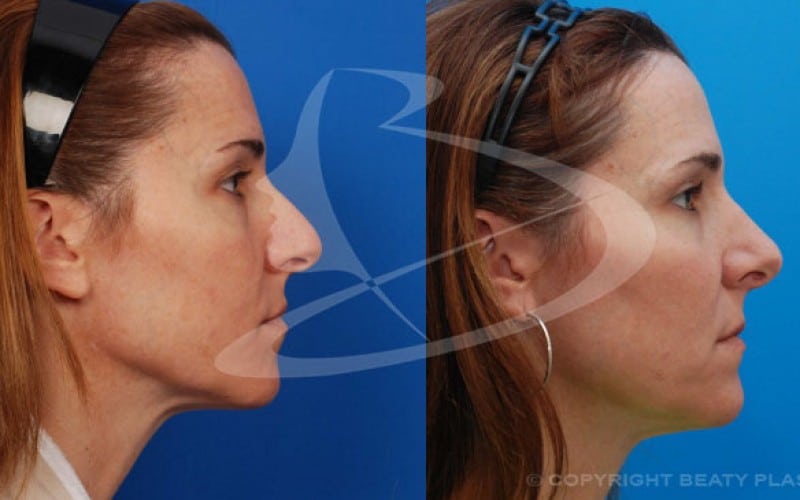 *Individual results may vary!
Is Nose Surgery Covered by Insurance?
Similar to most cosmetic surgeries, rhinoplasty is not typically covered by most insurance plans. However, insurance coverage may be available if portions of the procedure are necessary for medical reasons, such as a deviated septum.
Dr. Beaty and team specialize in non-surgical procedures, facial plastic surgery options and more.
If you would like to learn more about our services, please contact us to speak with one of our experts.