Everything is in the Face
"With the wide variety of options available today to address individual needs, a cookie cutter approach just doesn't work. To best serve patients, I have to take into account what they want to achieve, what kind of lifestyle they live, and what kind of time they want to budget for the healing process before recommending procedures that will meet their needs." –Dr. Mark M. Beaty
The face has many important functions, but as social beings, none perhaps is as interesting to us as communication. Yes, we use our mouths to communicate verbally. However, many more subtle messages are conveyed when we speak to each other; the position of the lips shows our emotions and the lines around our mouth show how often we laugh. If we are rested or tired, healthy or sick, young or old, it shows in our eyes.
It is no wonder then that facial appearance has been important since society began. If, as Cicero said, "everything is in the face," this is a natural area of focus for anyone seeking to externally maintain the aura of health, vitality, and well being through all phases of life.
Better living through exercise and nutrition are helpful, but can only take us so far. Cosmetic procedures are now commonly employed to maintain the bright, well-rested appearance that eventually fades from all of us.
The introduction of new and changing technology and procedures has influenced patient expectations considerably. Most people seeking facial rejuvenation have abandoned the invasive procedures in the past for an approach that is customizable, obtains natural looking results and requires a shorter recuperative period.
"With the wide variety of options available today to address individual needs, a cookie cutter approach just doesn't work. To best serve patients, I have to take into account what they want to achieve, what kind of lifestyle they live, and what kind of time they want to budget for the healing process before recommending procedures that will meet their needs."
Dr. Beaty works exclusively on the face and neck in his practice at Beaty Facial Plastic Surgery in Alpharetta. The facility, which boasts a fully accredited surgery suite, is housed in a traditional Southern style home and is designed to create a comfortable and relaxing atmosphere. According to Dr. Beaty, the entire treatment process, from the time that patients have their first consultation through post-treatment follow-up, is managed to provide an experience that is private, supportive and transforming.
The goal of treatment, Dr. Beaty says, is to optimize patient self-esteem and lifestyle, and the treatment process should not detract from that. Subsequently, the lifestyle that the patient leads often impacts the treatment decision. "Based on what an individual patient wants, there may be two or three procedures that are appropriate," he explains. "Yet if these procedures would keep that patient from attending a professional conference or practicing with the tennis team for several weeks, that may be an important consideration. When it is, we may choose a treatment plan that would take a little longer for the patient to reach the desired goals, but would minimize any recuperative period."
With the breadth of cosmetic options for facial rejuvenation ever expanding, Dr. Beaty spends an enormous amount of time reviewing new cosmetic techniques. However, he does not employ every new technique at his practice, because he looks to provide only the procedures that offer patients good value. Two increasing popular procedures that Dr. Beaty reports as useful are the mid-facelift and Contour Thread™ lift.
The mid-facelift corrects some of the early signs of aging by restoring fullness to the area around the cheekbones and underneath the eyelids. The procedure is minimally invasive, performed from small incisions above the ear and either in the mouth or the lower eyelid. From these areas, tissues are grasped and elevated, then held in place by suture.
The Contour Thread™ lift achieves similar results. However, while the mid-facelift is performed under either deep sedation or general anesthesia, the thread lift is performed while the patient is awake. After numbing the target areas with local anesthetic, tiny barbed sutures are placed strategically underneath the skin. These special sutures are self-anchoring and have a needle system that inserts threads into the treatment area. The barbs then serve to lift the tissues and hold them in place.
The benefits of these procedures include little or no visible incisions, minimal scarring, less bleeding and no hair loss. Although some amount of bruising can be expected, normal activities can be resumed the following day and women can continue to wear makeup.
All procedures, regardless of level of complexity, are performed at Beaty Facial Plastic Surgery with state of the art surgical equipment. Because patient safety is of the utmost concern, anesthesia is administered by medical doctors only. Dr. Beaty has ensured that for his patients, no matter what they wish to accomplish, a trip to the hospital is a thing of the past.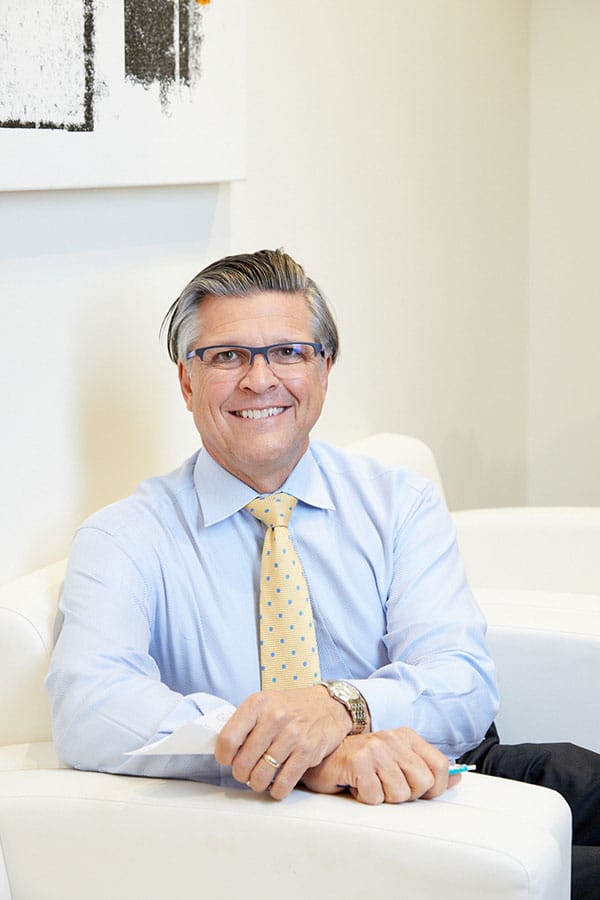 Dr. Mark M. Beaty
Services Provided by Dr. Beaty